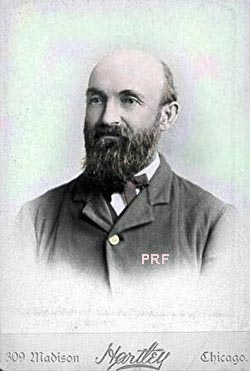 George Hicks
Private, Company A
George E. Hicks was born in Vermont in May 1838.
With the Fifty-First Illinois. According to regimental records, George was living in Cook County when he signed up for military service in Chicago on February 11, 1862. At that time, the regiment had been forming, training, and outfitting in Camp Douglas for almost five months and was just three days away from leaving Chicago for the front. George was not formally mustered in until the regiment was already in the field. The date of muster was February 27, 1862, Camp Cullum. For the first two months of his service with the Fifty-First George was detailed as the company wagoner for Company A.
After the New Madrid-Island No. 10 campaign in March and April of 1862 and the advance into Mississippi in May, George, along with a number of other members of the regiment, fell ill with one of the serious camp diseases of the time; "rheumatism," say his medical records. He was first admitted to the general field hospital at Farmington, Mississippi on June 1, 1862. His condition deterioriated and he was moved to the hospital steamer Stephen Decatur on the Tennessee River. George completed his recovery at the Federal military hospital at Paducah, Kentucky.
After returning to the regiment, for intermittent periods in 1862 and 1863, George served as the Company A's fifer. George was with the regiment throughout its marching, skirmishing, picketing, and fighting—in Alabama and up and down in Tennessee—in late 1862 and 1863. George was captured by Confederate enemies on the second day's fighting at Chickamauga, Georgia, September 20, 1863. A week later he was marched off to Dalton, Georgia, where he entrained for Atlanta and eventually Richmond, where he was processed as a prisoner of war on September 29. He was moved to the prisons in Danville, Virginia on December 12, 1863. In the Spring of 1864, he was transferred to Andersonville where he spent the rest of his days of confinement.
On December 10, 1864, after nearly fifteen months in captivity, George was paroled at Charleston, South Carolina. On December 17, 1864 he was admitted to the Federal hospital at Annapolis, for the treatment of scurvy. On December 31 he received a thirty-day furlough and went home to Wauconda. George never returned to the army. As his furlough expired, a local Wauconda physician requested a disability discharge for him, stating the George was suffering from "general debility consequent upon severe sickness" caused by his long imprisonment in Confederate prisoner-of-war camps. But by then, George's time with the army had run to completion, and he was discharged on March 25, 1865 "by reason of expiration of term of service." He was done.
After the War. George took up his life again in Wauconda. He married Mary Adelaid Pratt on August 22, 1867 (Mary was also born in Vermont). They raised a family. The 1880 census lists George as a butcher, and he and Mary had three daughters at that time: Alta was born in 1870 (died in 1880), Erma was born in 1874 (died 1921), Ada was born in 1879 (died 1959). Mary herself, George's wife, died in 1887. In 1900, according to the census, George was living in the home of his daughter Erma. He was still active as a butcher. The 1910 census shows George still living in Erma's home, but retired.

George died on February 18, 1917. The following obituary appeared in a local newspaper on February 22.
Geo. H. Hicks, civil war veteran and member of Wauconda post 368 G.A.R. died on Sunday morning, February 18, at the home of his daughter, Mrs. Arthur Jacobus, Chicago, aged seventy eight years. Mr. Hicks was a native of Whitingham, Vermont, but for most of his life had been a respected citizen of this village [Wauconda]. His wife, a daughter of John Pratt, died many years ago, also the oldest daughter, Miss Alta. Two daughters survive; Mrs. V.D. Kimball of this place and Mrs. Jacobus of Chicago; four grandchildren, one sister, Mrs. Mary Whitcomb of Chicago; one brother, William Hicks formerly of Palatine, who is ill in Florida. Short services were held in Chicago on Tuesday afternoon, with services here Wednesday morning. Interment was in the Wauconda cemetery.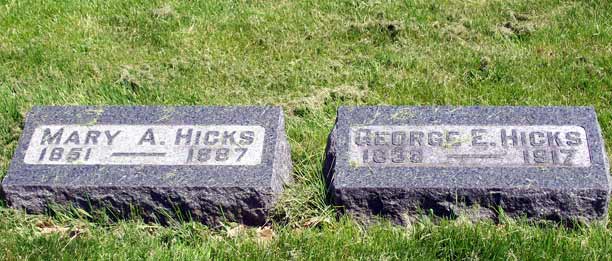 ---
Sources:
George Hicks, Compiled Service Record, Records of the Adjutant General's Office, 1780's-1917, Record Group 94, National Archives and Records Administration, Washington, D.C.
Photograph of George Hicks courtesy of Priscilla Ross-Fox of Lake County, Illinois; all rights reserved. Use allowed only with express permission of Ms. Ross-Fox.
Thanks to Priscilla Ross-Fox and the Barrington (Illinois) Library for the obituary. It appeared in the Barrington Review of February 22, 1917.
Regimental Hospital Records, National Archives and Records Administration, Washington, D.C.
United States Census, 1870, 1880.