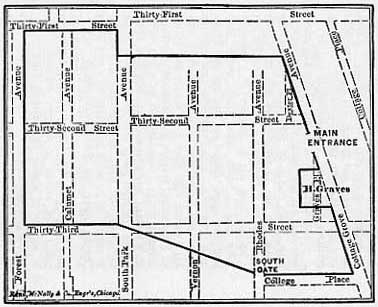 Map of Camp Douglas, Chicago
[Camp Douglas was the training site for the Fifty-First Illinois Infantry.]
This map superimposes the boundaries of old Camp Douglas on Chicago streets that were laid out in years after the Civil War. When the camp was built in 1861, the area was little more than prairie though Cottage Grove Avenue connected Cottage Grove to Chicago. The main entrance to the camp fronted on Cottage Grove Avenue.
The avenues from left to right are Forest, Calumet, South Park, Vernon, and Rhodes. The property just south of the main entrance was that of Henry Graves.
In the autumn of 1865 Camp Douglas was dismantled and the property sold off.
Source: William Bross, "History of Camp Douglas," Paper Read before the Chicago Historial Society, June 18, 1878, in Mabel McIlvaine, ed., Reminiscences of Chicago during the Civil War, New York: The Citadel Press, 1967 (originally published in 1914), p. 160.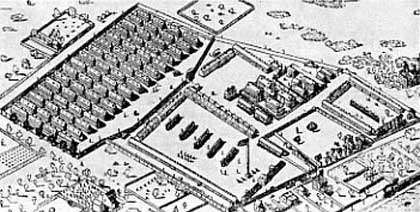 Sketch of Camp Douglas
You will need to rotate this 3-D sketch about thirty degrees counter-clockwise in your mind's eye to true it up with the map above and with the world. The five obliquely positioned rectangles in the foreground are five ranks of men, in the sun, drilling. The five specks to the left of each rank of men are their captains. The big speck out front is the major.
Victor Hicken wrote:
Most of the buildings in Camp Douglas were one-story structures, ninety by twenty-four feet, mounted on four foot posts because the land was notoriously low and flooding was common. Living quarters were separated by fifty-foot streets with abnormally large gutters to carry off the torrential rains. Each barrack... was built to house an entire company, divided into two rooms plus a kitchen, and fitted with three-tiered bunks, tables, benches, and a single stove.
Bross wrote that the barracks were not initially built on four-foot stilts but were raised later, after Camp Douglas became a prison camp, to prevent Confederate escape attempts which depended in part on digging under the buildings. Bross is probably correct. He lived in Chicago at the time of Camp Douglas and walked the area with its designers, builders and commanders for his 1878 discourse. Hicken is mistaken by several hundred yards when he places the west boundary of the camp at South Parkway; it was rather at Forest, as in Bross' sketch above.
Source: Edmund Kirke, "Three Days at Camp Douglas," Our Young Folks: An Illustrated Magazine for Boys and Girls, Vol. 1, No. 4, April 1865, pp. 252-262: p. 253. Drawing from Our Young Folks magazine reproduced in Victor Hicken, "Illinois Camps, Posts, and Prisons," Illinois Civil War Sketches, Illinois State Historical Library for the Civil War Centennial Commission of Illinois.