David White English
Private, Company E
David W. English (often "David H. English" in military records) was born in Washington County, Pennsylvania.
English enrolled very early on—September 19, 1861—in the regimental recruiting effort in John McWilliams' company, which became Company E of the Fifty-First Illinois Infantry. English was 43 at the time, a printer by profession, married with children, and living in Chicago.
English was in training at Camp Douglas [map, sketch, details], Chicago, during the four months of the regiment's formation, as the officers tried to build the regiment up to field strength. This was not a simple linear task—as other regiments at Camp Douglas were consolidated with each other, others disbanded, and as companies joined the regiment and companies left the regiment. This is the context of English's letter below. (The Organization of the Regiment section of the Regimental History page also has considerable information about these episodes.)
English was with the regiment throughout its New Madrid and Island No. 10 campaigns, the skirmishing around Hamburg, Tennessee during the last week of April, 1862, the fighting at Farmington, Mississippi in early May, and the investment of Corinth, Mississippi from May 17 - 29, 1862. In July, the regiment moved out of Corinth to the east along the Memphis & Charleston Railroad, protecting it from Confederate destruction, moving as far as Decatur, Alabama.
During this time David was always with the regiment—never absent sick, never "detached" for any other service. Then, on September 5, 1862 from Decatur, Alabama, he was sent to the hospital at Corinth, and ten days later he was discharged for reasons of disability. We would wonder at an explanation except that David's granddaughter Ivy recalled that he was fond of joking that he was kicked out of the service by a mule. And, indeed, the stated reason for his discharge was "very large double hernia."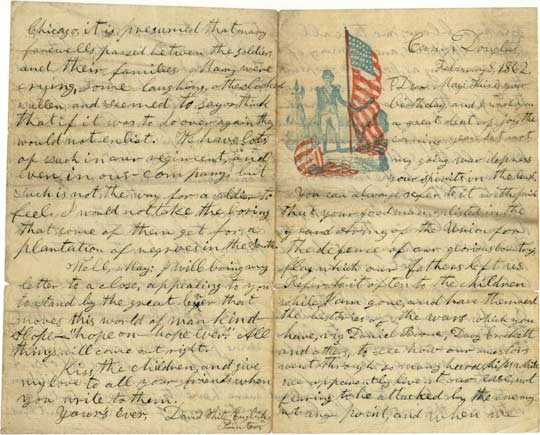 Letter to wife Mary (written less than a week before the regiment left Chicago for "the field"):
Camp Douglas
February 8, 1862.
Dear Mary: This is your birthday, and I wish you a great deal of joy the coming year. Let not my going war depress your spirits in the least. You can always refer to it with pride that your good man, enlisted in the grand Army of the Union for the defense of our glorious country's flag which our fathers left us. Refer to it often to the children while I am gone, and have them read the histories of the wars which you have, viz: Daniel Boone, Davy Crockett and others, to see how our ancestors went through so many hardships while we apparently live at our ease, not fearing to be attacked by the enemy at any point, and when we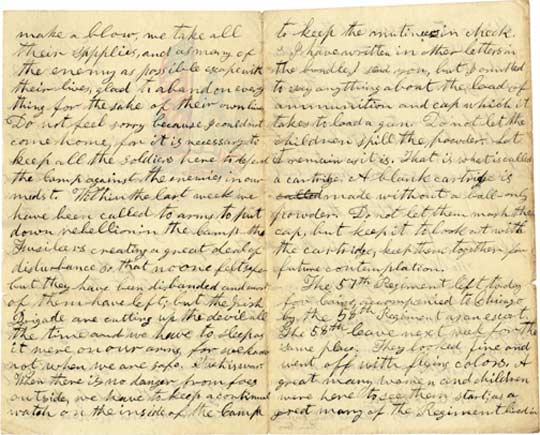 [SECOND PANEL] make a blow, we take all their supplies, and as many of the enemy as possible escape with their lives, glad to abandon every thing for the sake of their own lives. Do not feel sorry because I could not come home, for it is necessary to keep all the soldiers here to defend the Camp against the enemies in our midst. Within the last week we have been called to arms to put down rebellion in the Camp - the Fusileers creating a great deal of disturbance do that no one felt safe - but they have been disbanded and most of them have left; but the Irish Brigade and cutting up the devil all the time and we have to sleep as it were on our arms, for we know not when there is no danger from foes outside, we have to keep a continual watch on the inside of the Camp [THIRD PANEL] to keep the mutineers in check.
I have written in other letters in the bundle I send you, but I omitted to say anything about the load of ammunition and cap which it takes to load a gun. Do not let the children spill the powder. Let it remain as it is. That is what is called a cartridge. A blank cartridge is called made without a ball - only powder. Do not let them mash the cap, but keep it to look at with the cartridge; keep them together for future contemplation.
The 57th Regiment left today for Cairo, accompanied to Chicago by the 58th Regiment as an escort. The 58th leaves next week for the place. They looked fine and went off with flying colors. A great many women and children were here to see them start; as a great many of the Regiment lived in [FOURTH PANEL] Chicago, it is presumed that many farewells passed betwen the soldiers and their families. Many were crying, some laughing, others looked sullen, and seemed to say or think that if it was to do over again they would not enlist. We have lots of such in our regiment, and even in our company, but such is not the way for a soldier to feel. I would not take the boring [?] that some of them get for a plantation of negroes in the south.
Well, Mary: I will bring my letter to a close, appealing to you to stand by the great lever that moves this world of mankind - Hope - "hope on - hope ever." All things will come out right.
Kiss the children and give my love to all your friends when you write to them.
Your's ever, David White English, Printer.
---
Sources:
Letter scans and transcription, courtesy of Michael A. Crane, Jr., descendant of David White English. The letter was preserved and in the Crane Family Bible and discovered there two years ago. Michael Crane of Everett, Washington maintains an interesting website at www.macjr.net.
David English, Compiled Service Record, 51st Illinois Infantry, Records of the Adjutant General's Office, 1780's-1917, Record Group 94, National Archives and Records Administration, Washington, D.C.