Above: the grave of Simon Trent on the left and of his wife Flora Van Order Trent on the right.

Above right: another view of the gravestone of Simon Trent. The G.A.R marker is for Post 603, the Eugene Lyford Post, the Port Byron post. Eugene Lyford was the son of a Port Byron physician; Eugene Lyford was a member of the 88th Illinois Infantry and was killed at the Battle of Stones River.

Simon Trent was born in Lewis, Kentucky on September 22, 1830. He married Flora Van Order (born January 30, 1836 in Essex County, New York; father: Harvey, mother: Polly) in Henry County, Illinois on November 9, 1854. They had two children before the Civil War came. Trent had established himself as a wagoner in Port Byron. He enlisted as a private in Company H of the Fifty-First Illinois. He was almost twice as old as other of the privates in the company. Trent was thirty-one, Stephen Allen, a Port Byron neighbor, was sixteen. Alexander Jack, another local man, was seventeen. In January or February, 1862, already Trent was promoted to first sergeant of the company. In December 1862, a few days before the Battle of Stones River, Trent was sent to convalescent camp in Nashville to recover from an increasingly severe inflammation of the eyes (probably blepharitis, which is caused by a bacterial infection and leaves the eyes feeling as-if full of sand or grit). He remained in convalescent camp until April, 1863. On June 12, 1863, he was commissioned second lieutenant of Company H. He was not immediately mustered in in his new lieutenancy—nor intermediately either, for that matter—so he was for some time "acting lieutenant", while Osman Cole (also from Port Byron, also waiting formal muster) continued as acting first lieutenant.

At Chickamauga, on September 19, in the east Viniard field, the first day of the battle, Trent was critically wounded by a Confederate bullet that broke the thigh bone of his left leg. Robert Rowland, also of Company H, deposed for one of Trent's pension hearings, recalled that he (Rowland) "was with H. C. Trent at Chickamauga while the said Trent was performing the duties of a second lieutenant of that company, and at that time the said Trent, while leading his company, was wounded in the hip by a bullet and incapacitated; that he was carried to the field hospital." Louis Genung, of Port Byron and Company H (who "from childhood knew Trent very well") helped carry Trent from the field and stayed with him and other wounded of the regiment through the night until he had to return to the regiment early on the morning of the 20th. Rowland continued his account, "The next day he [Trent], with the said field hospital, was captured by the enemy, and that during all this time he was recognized [as] and performed the duties of 2nd lieutenant, that he was afterwards exchanged with other prisoners by the enemy and returned to the Chattanooga hospital." (We must emend Rowland's account to say that not Trent alone was in command of Company H at Chickamauga but also [acting] First Lieutenant Osman Cole, who survived September 19 but was shot in the face and captured the next day; also, eight or nine days after the battle 2000 - 3000 wounded Federal soldiers who had been captured by the Confederate army passed back through the Union lines to initial stopping places in hospitals in Chattanooga, on "parole"; they were not actually formally exchanged until months later.)
Several men of Company H and from Port Byron (e.g. David Reed, Alexander Jack) were wounded, captured, paroled and sent through the Union lines, by the same sequence that Trent was. The seriously wounded of the regiment recovered in hospitals in Nashville; some of them were able to go home in December and January for brief furloughs; they then reported to Benton Barracks in St. Louis, one of the Federal parole camps, where they awaited exchange. Trent's wound was too serious, and he was sent to Camp Chase, Ohio, which functioned as a parole camp but also provided medical treatment of the kind Trent needed. Nonetheless, in February, when the regiment was in Chicago on reenlistment furlough and preparing to return to the front, Trent, on crutches, traveled to Chicago. There he met Colonel Luther Bradley, who had nearly recovered from his Chickamauga wounds, and Bradley told him that his (Trent's) condition would make him useless in camp and medical care in camp would not be of the best—stay put in Illinois. Trent did. In fact, he was never able to return to the regiment. He was eventually mustered out formally—on June 15, 1864. At the same time, he was finally mustered in officially as second lieutenant of Company H, to date back to June 12, 1863. His $5-per-month pension, his initial pension as a wounded veteran, also dated to June 15, 1864.

Trent was troubled by eye disease for the rest of his life, and this eye condition contributed its disability portion to the amount he received as a pension. Most of his pension stemmed from the severe wound to his leg. The femur was fractured and was not healed properly. It knit back together but not with the two pieces of bone end to end but rather offset ("overlapping," his physicians sometimes called it), so that Trent's left leg was curved and therefore almost two inches shorter than the right. He walked with a horrible limp—and a walking stick. One of his physicians (W. H. Ludewig) wrote, "Claimant is certainly a cripple on account of this leg." Trent's war wound put a stop to his pre-war wagoner career. He opened a general store, selling groceries and dry goods, in Port Byron to support his family while at the same time sparing his leg. In the early 1890s Trent became an entrepreneur in the lime kiln business that was begining to prosper around Port Byron. He gradually transitioned completely out of his retail activities. In 1893, he tried unsuccessfully to be elected postmaster, a paying position and one fit for a cripple. He was often elected to city and sometimes county posts, as well as to offices in the local hierarchy of the Grand Army of the Republic, Post 603. Trent was the solicitous dean of the veterans of the regiment in the Port Byron corner of Illinois. He testified in their behalf at pension hearings, he employed them, he opened his house to the periodic reunions of Companies H and K, he helped align the affairs of the old veteran John Case when Case could no longer take care of himself and his family was doing a poor job of it..

Flora Trent lived until December 14, 1916.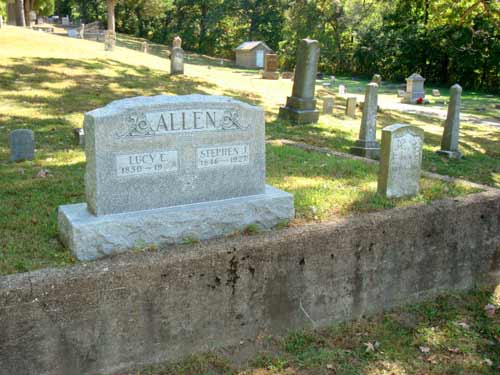 Above: Stephen Allen family stone in Oak Grove Cemetery, Port Byron.

Above right: the fading regimental marker for Stephen Allen.

Stephen Allen was one of the youngest members of Company H. He was only 15 when he signed up. Whereas many of the Rock Island County members of Company H were born in eastern states (especially Pennsylvania) and migrated west before the Civil War, Allen was actually born in the county. He was the fourth of ten children of Samuel (born in New York, circa 1811) and Mary Allen (born Indiana, circa 1822). The parents left Indiana for Illinois and Coe Township around 1843 or 1844.

During June-July-August, 1862, Allen was ill first at the federal military hospital at Farmington, Mississippi, then at home in Port Byron to recover, then in the federal hospital at Keokuk, Iowa. At the end of July, Allen, released from the hospital in Keokuk, was arrested in Rock Island for being absent without leave. He was transported south, back to the regiment, where in the course of time, he achieved the official status of deserter, on October 1, 1862 at Corinth—"considered deserted by having been absent without leave for two months."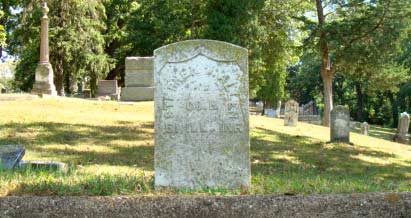 In September, 1863, Allen, with the regiment in Tennessee and Georgia, was awaiting court martial on the desertion charges. Chickamauga intervened. On the second day of battle, September 20, 1863, Allen was assisting as a hospital steward when the Federal right wing collapsed and he and many hospital physicians, nurses and other stewards were taken captive. Allen was confined in Confederate prisons in Richmond, Danville, and Andersonville. He was released in March 1865 and paid his final dues with the regiment by tending the regiments horses in New Orleans while the regiment was stationed in Texas. Allen was discharged and mustered out in September. The wheels of military justice continued to turn and in November orders were issued that Allen should be dishonorably discharged because of desertion. By then, the Fifty-First no longer existed and the last lieutenant of Company H (William Chenoworth) informed the Adjutant General's Office that Allen was already mustered out. And, there the thread of information breaks.

From census records and The Port Byron Globe there are just a few more things known about Stephen Allen after the war. He first returned to Coe Township and took up farming (probably not as a landowner). He married his wife Lucy around 1871. For twenty years he worked in the lime kilns owned by his old company-mate Henry Trent. The 1910 census lists him as a mail carrier. By 1920, he was retired and, by 1927, dead.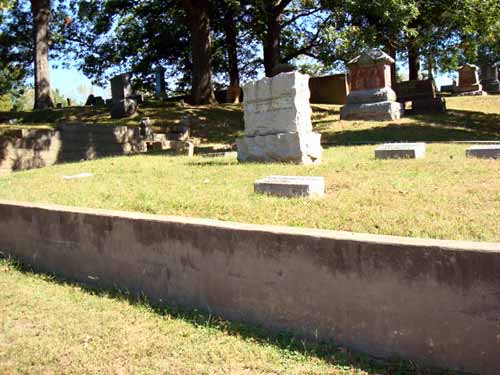 Marcellus Metzgar was born in Mount Pleasant, Westmoreland County, Pennsylvania, on April 16, 1843. Metzgar signed on with Company H in 1861. The 1860 census shows Marcellus working in Port Byron as a clerk in his father's dry goods store. Military records also show his occupation as "clerk" at the time he enlisted. His skills as a clerk brought him appropriate assignments in the regiment. In August, 1862, he was detailed as clerk to the regimental adjutant (Charles W. Davis at that time). He drew other detached-service assignments to go with his clerking duties: in June 1863, he was left in Murfreesboro in charge of the regimental baggage. In February, 1864, when most of the men of the regiment, including a number of those of Company H, went home on reenlistment furlough, Metzgar (who did not reenlist) stayed on, on duty in Chattanooga. He served as clerk for the Sanitary Commission (His regimental comrade Edward Tabler, also not reenlisting, also therefore not entitled to a reenlistment furlough, stayed on in Chattannooga to work in the Sanitary Commission's sanitary Garden, until the rest of the regiment returned from Chicago furlough). The regimental surgeon Thomas Magee certified, just before Metzgar started his duties with the Sanitary Commission, that Metzgar "has been unable to perform field service, not having physical ability to endure the hardships incident to campaigning. He has been acting as clerk in the Adjutant's office for near two years and I would recommend that he be detailed in that capacity." See "Tabler's Sanitary Garden" for more on these no-furlough assignments. In April 1864, Metzgar was transferred to the Signal Corps for the final nine or ten months of his military service.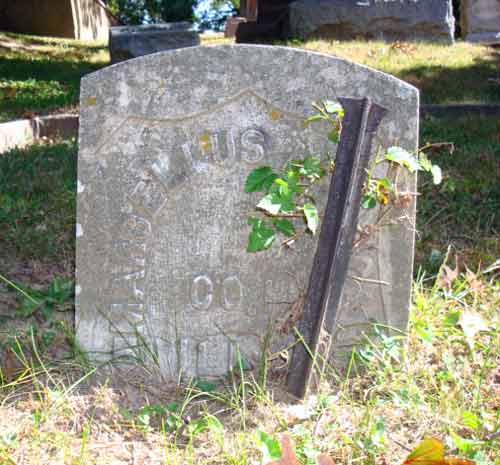 After the war, Metzgar began to thrive. He married Mary E. Brown at the Port Byron Congregational church. They had two children: Judson, born December 5, 1870 and Frank, born September 24, 1874. The 1880 census lists Marcellus as a traveling salesman—"traveling man", the census-takers called the occupation. In 1882 Metzgar moved next door to Moline. In Moline Metzgar worked for the post office and engaged in an organ-manufacturing business, the Bennett Organ Company. He gradually, sometime after 1885, transitioned completely out of his traveling sales work. The last census glimpse we have of him is given by the 1920 census. Metzgar, retired and widowed, was living in St. Cloud, Florida. Metzgar spent the decade of the 1920s partly in St. Cloud and partly in Moline, Illinois.

He died on January 6, 1929. He was interred in Port Byron's Oak Grove Cemetery.