Andersonville Gravesite
Private William Lindy
Company H
William Lindy was born in Sweden. According to 1860 census records, he was living with his 52-year-old mother and 10-year old brother, farming, in Truro, Knox County, Illinois when Lieutenant Greenwood of Company H signed him on for three years of service. He was 18 at the time of enlisting in Feburary 1862.
Lindy survived, without an official scratch, Island No. 10, Farmington, the lean diet at Nashville, the Battle of Stones River, and the mid-1863 chase after Bragg in central Tennessee. In the afternoon of September 19, 1863 at Chickamauga though he was shot in the face when the Fifty-First fought to hold position in Viniard's Field. Lindy then either walked toward the rear or was helped out of the fight by stretcher-bearers—regimental musicians, hospital stewards, African-American cooks, friends. He became a prisoner of war the next day when the Union right, let down by bones-for-heads general officers, collapsed and Confederate cavalry surrounded the Crawfish Springs hospital. Lindy's wound was not critical enough to win him, a week later, parole and permission to cross back through the Federal lines as a POW, as happened with more than a few of his regimental comrades.
Instead, on September 29, Lindy—perhaps under the medical care of captured Union physicians—found himself confined in Richmond, Virginia. On December 12, 1863 he was moved to the prison in Danville, Virginia. At an unknown date, he was moved to Andersonville in Georgia. On May 23, 1864 he was admitted to the prison hospital at Andersonville, suffering from chronic dysentery. He died there on June 7, 1864, and was buried in the burial trench with Marker #1685, the number preserved on the gravestone when it was placed long after the war.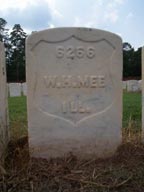 Andersonville Gravesite
Private William Mee
Company H
William Mee was captured on September 20, 1863, the second day of the Battle of Chickamauga. He fell into Confederate hands in the chaos that engulfed much of the Federal right when General Wood opened a causeway to conduct Longstreet's regiments to the rear. Mee was not wounded, which was, ironically, unlucky—like his company comrade William Lindy, who was walking wounded—in that he could march the 20-plus miles to Dalton, Georgia, and from there take the train to Richmond. More seriously wounded members of the
Fifty-First were paroled and released back through the lines, to be treated by Federal physicians.
Mee's POW records show that he was confined in Richmond on the same day, September 29, as William Lindy. Another soldier of the Fifty-First Martin V. Riley described briefly being held in the "slave pen" at Dalton, the week-long train trip to Richmond, and incarceration for several weeks in the Pemberton Building in Richmond—in the aftermath of September 20 at Chickamauga. Riley's Account of His Days as a POW
Mee lived on for almost a year in Confederate prisons and then died at Andersonville on August 20, 1864, during the hottest of all Andersonville's fourteen months. Records list the cause of his death as ictus solis—sunstroke. His remains inhabit the burial trench at position 6266.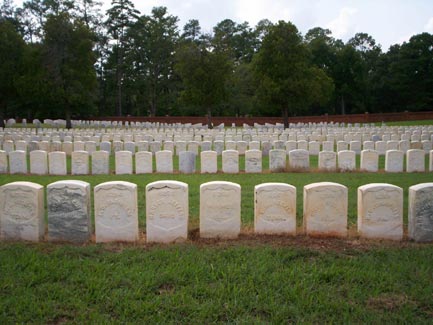 Mee was born in Pennsylvania. He migrated to Illinois and earned his livelihood there as a mason. Mee was twenty-eight years of age when Rev. John Whitson signed him up for Whitson's infantry company in 1861. At the time, Mee was living in Zuma Township, Rock Island County, Illinois. Many of Company H's soldiers came from the three contiguous townships of Zuma, Coe, and Port Byron, the latter of which bordered on the Mississippi River and compassed the town of Port Byron.
(There is background information on Andersonville and the numbering and placing of the graves on these pages.)
Mee's 6266: Fifth from left, front row.
Source: William Lindy Compiled Service Record, 51st Illinois Infantry, Records of the Adjutant General's Office, 1780's-1917, Record Group 94, National Archives and Records Administration, Washington, D.C.
William Mee Compiled Service Record, 51st Illinois Infantry, Records of the Adjutant General's Office, 1780's-1917, Record Group 94, National Archives and Records Administration, Washington, D.C.
Genealogical research by William Edward Henry.
Photographs by Kevin Frye (Frye@pstel.net), Park Service Volunteer, Andersonville National Historic Site.