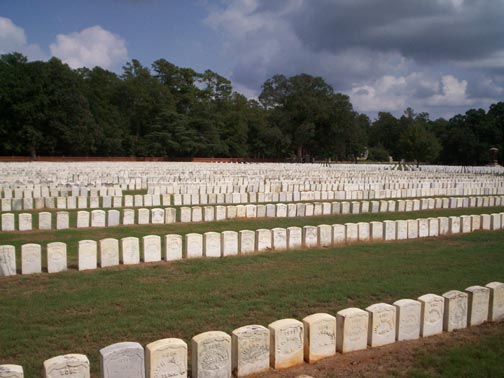 Andersonville Graves
Andersonville first imprisoned prisoners in Feburary, 1864. Over twelve thousand men are buried there, shoulder to shoulder, in long rows. Prisoner Dorence Atwater of the Second New York Cavalry recorded these resting places. He volunteered his services to the commandant as keeper of the records of the dead. He wanted to allow the families of the dead to know the fate and burial location of their loved ones. He was allowed to do and developed an ingenious and effective method. Thanks to Atwater's method, there are only 460 unknown graves of the 12960 who died here.
When the dead were brought to the deadhouse, those who brought the dead soldier (usually those who knew him) told what information was known such as name, state, regiment, and company.
This information was entered into Atwater's records numerically. A number matching the number in the book was pinned to the dead man's clothing. The dead man then was taken to the cemetery, which consisted of burial trenches. These trenches were 4 feet wide and long enough for 150 to 200 bodies. The bodies were stripped (so the living could use what the dead no longer needed), and they were buried shoulder to shoulder. A post was placed at the head of each grave; carved into the post was the number that had been pinned to the dead man's clothing.
Atwater made a second copy of the death list with fear the Confederates would lose or destroy the first copy, and he smuggled it out when he was exchanged. His intent was to print the list in several Northern newspapers.
After the war, he and Clara Barton returned to Andersonville to mark the graves in the new National Cemetery established there. All they needed to do was to match the numbers on the post to the numbers in his records to see who was buried where. They replaced the post with wooden headboards. In 1878 the federal government built a brick wall around the cemetery and placed the first stone markers. In 1898 and 1899 the Government settled upon a standard gravestone for Union Civil War soldiers and replaced the first stones.
Atwater was born in Connecticut, died in San Francisco in 1910, and was buried in Tahiti—thought to be one of the most 1864-Andersonville-unlike spots in the world.
Source: Kevin Frye, Park Service Volunteer, Andersonville National Historic Site.
Site photography by Kevin Frye.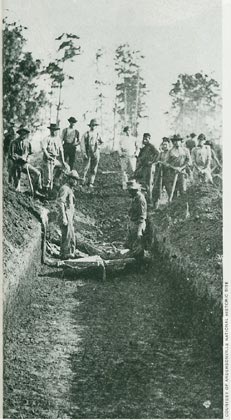 Burial of Soldier
August 1864
Photo, National Archives
The Same August 1864 Burial Trench in 2006