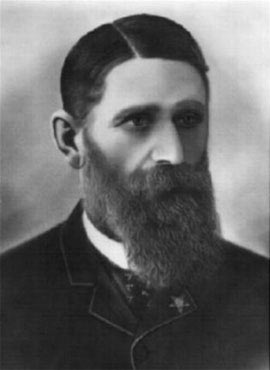 Oliver P. Yelton
Sergeant, Company B
Oliver Perry Yelton was born on January 11, 1842 in Indiana. His parents were William and Mary (Lockwood) Yelton. On April 25, 1865, Yelton married Anna Browning of Tennessee in Gallatin, Sumner County, Tennessee. In 1860, according to census records, Oliver was living with his parents in Putnam County, Indiana, the county of his birth.
Lieutenant Thomas Lester enlisted Oliver for the 51st Illinois on August 16, 1862 at St. Joseph, Illinois. He listed his occupation as farmer at time of enrollment. Yelton was promoted 5th Sergeant on September 16, 1862 and 1st Sergeant on October 31, 1862. He was wounded severely in the right thigh in the second day of the fighting at Chickamauga on September 20, 1863. Fortunately for Oliver the bullet did not shatter any bones. He returned to duty before the Georgia campaign that began in the Spring of 1864 and then suffered internal injuries as the result of a bursting shell on May 14, 1864. He was hospitalized in Federal military hospitals. Due to his injuries, Yelton was assigned to army administrative duties in Nashvile. He worked under James Boyd, another member of the regiment suffering compromised health (and last colonel of the Fifty-First), in the provost marshall's office in Nashville. In late 1864, just before the Pulaski-to-Nashville retreat, Yelton requested a disability discharge. It was formally granted on March 15, 1865.
The ambitious, information-full Family Yelton website provides more detail to Yelton's biography. The information that follows is gleaned from that website or graciously passed on by Yelton family descendants.
While working in the provost marshall's office in Nashville, Yelton met Anna Browning. She was a Tennessee woman, daughter of the Rev. W. H. Browning and Elizabeth Pyle Browning. Yelton and Anna were married at Gallatin, Tenn, April 25, 1865, even though her parents objected to her marrying a Union army soldier. In 1870, according to the United States census, Oliver was living in Cass County, Missouri with his wife and three children: Edgar and twins William and Mary. Oliver's occupation was listed as "land agent". From Missouri, Yelton and his family moved on to Colorado, to Greeley and Fort Collins, where Yelton was deputy sheriff and ran a meat business. The family moved on to Tie Siding and Sheep Creek, also in Colorado. The Yeltons migrated to Wyoming. The 1880 Census records place Yelton and his family in Laramie in Wyoming Territory and list Oliver's occupation as "stock grower". He was engaged in ranching. There were then five children, with the addition of Katie and Oliver Perry, Jr. In Laramie, Yelton figured prominently in law enforcement. There, at one time or another, he served as deputy United States marshal, constable, chief of police, deputy sheriff, and city marshal.
Yelton died in 1890, still young, and was buried at Greenhill Cemetery, 15th and Willet, near the present-day University of Wyoming campus in Laramie. His gravestone reads, "Oliver P. Yelton, Born Jan. 11, 1842, Died July 29, 1890. Aged 48 years, 6 months, and 18 days." One of his obituaries read, in part, "He suffered from a severe attack of the grip about a year ago and he never entirely recovered from its effects. Bright's disease developed and the history of his sickness has been a gradual decline, up to the time of his death. For the past fifteen weeks he has been confined to the bed, and for the past three weeks he has been unconscious... He was an honored citizen and a brave soldier. He served as an officer in this section in the days when it took a man of unflinching nerve to execute the edicts of the law."
---
Sources:
Oliver Yelton, Compiled Service Record, Records of the Adjutant General's Office, 1780's-1917, Record Group 94, National Archives and Records Administration, Washington, D.C.
Chickamauga Casualty List, Regimental Books Fifty-First Illinois Infantry, Record Group 94, National Archives and Records Administration, Washington, D. C.
United States Census, 1880, 1900.
Many thanks to J. Vasiliauska and C. Chasin for Yelton family information and permission to draw on the Yelton website.