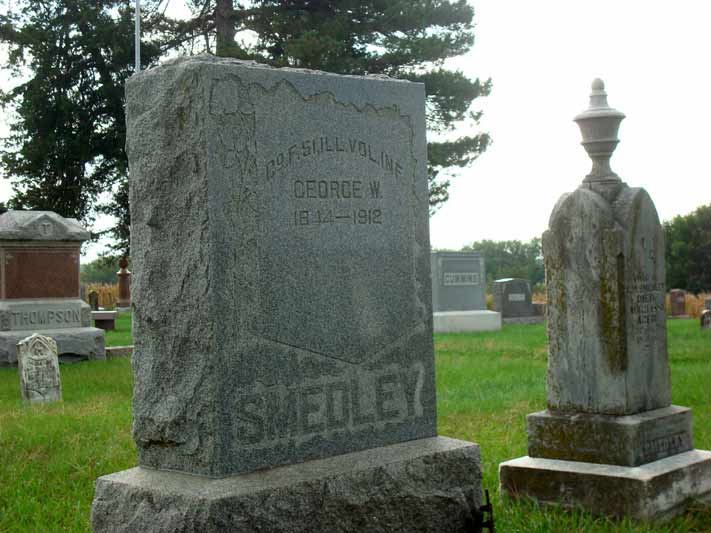 George W. Smedley
Private, Company F
George Wallace Smedley was born in Menard County, Illinois on February 14, 1844. His parents were William and Martha (Wright) Smedley, both natives of the State of Kentucky.
In July 1862, at Bath, Illinois, Smedley signed up for military service in a company being recruited by George Bellows. In the upshot, Bellows' company became Company F of the Fifty-First Illinois. It was the regiment's ninth company; the regiment was still one company short. The new Company F traveled south by rail to join the Fifty-First at Iuka, Mississippi, in July 1862, as the regiment moved east spreading out with other regiments to guard the Memphis & Charleston Railroad through north-eastern Mississippi and northern Alabama.
Smedley was with the regiment for the next eleven months, through the tension and skirmishing of railroad guard, the rush to protect Nashville, and the Battle of Stones River, where he was wounded in the chest and shoulder by artillery fire. He gradually lost the use of his left hand and left arm and became useless for any kind of fatigue duty, guard duty, or regimental movement. In March, 1863, Smedley began also to suffer from dysentery and from what was then called "rheumatism." In May 21, 1863, he was admitted to the general military hospital at Murfreesboro, Tennessee and from there sent to the convalescent camp at Murfreesboro. Smedley's condition never allowed him to return to the Fifty-First Illinois, and he was discharged on September 4, 1863. The doctor who signed the discharge papers stated that Smedley's disability was "total."
George married Anna Gertrude Maddox in Morgan County, Illinois on July 31, 1867. They moved to southeastern Nebraska in 1868 where George continued farming and where they started a family of sons (Orion O., James W., John T., Scott S.). Anna died in 1881, and George subsequently married Mary Swan, with whom he began raising a family of daughters (Anna G., Jessie S., Leah B.). Mary Swan Smedley died in 1889. George married again, another Mary (Mary A., born 1864). They had two sons (George V., Lee E.). Smedley's third wife far outlasted him, dying in 1942.
Smedley died in 1912. He is buried in countryside Grant Evergreen Cemetery in northern Nemaha County, Nebraska, along with his three wives.
Alfred T. Andreas included the following biographical snippet in his 1882 History of Nebraska:
G. W. SMEDLEY, farmer, P. O. Brock, born in 1845, in Menard County, Ill. He grew to manhood on the farm of his parents, William and Martha (Wright) Smedley, both Kentuckians. In July, 1862, G. W. Smedley enlisted in the Fifty-first Illinois Volunteer Infantry and five days later was on a forced march from Corinth to Decatur, Ala. At the great battle of Stone River, while with the Fifty-first, making a bayonet charge through a cedar swamp, Smedley received a glancing blow from a canister shot, which crushed his collar bone and all the bones protecting his left lung. Ambitious to serve in the ranks, he imprudently refused to go to the hospital at once, and, when finally sent there in June, was not discharged until the following September. He is now drawing an $18-pension in consequence of disability caused by the wound. Mr. Smedley brought his family to the Illinois settlement in 1868 and has since lived here. His wife, formerly Gertrude Maddox, of Springfield, Ill., died, after years of suffering, with consumption, August 6, 1881, leaving five children—Orion O., William J., Charles T., Scott S. and Gertrude A.
Grant Evergreen Cemetery, where George Smedley and his kith and kin are buried, is located on the very northern edge of Nemaha County, Nebraska, not far south of the small town of Talmage (Otoe County, NE) and not far from Brock (Nemaha County).

When looking from the front gates of the cemetery, the Smedley graves are ahead and slightly to the left of center, just beyond the evergreen. Smedley's wives Anna, Mary, and Mary A. are buried here, as well as some the Smedley children and step-children.

There is no standard military stone commemorating Smedley's service with the Fifty-First Illinois, but the great stone reads "Co F 51 Ill Vol Inf" and there is a G.A.R. five-pointed star at the base of the great stone.
Sources:
George Smedley, Compiled Service Record, Records of the Adjutant General's Office, 1780's-1917, Record Group 94, National Archives and Records Administration, Washington, D.C.
Regimental Medical Records, 51st Illinois Infantry, Records of the Adjutant General's Office, 1780's-1917, Record Group 94, National Archives and Records Administration, Washington, D.C.
Illinois Statewide Marriage Index, 1763–1900.
Photographs taken in October, 2008.
A[lfred] T[heodore] Andreas, History of the State of Nebraska; containing a Full Account of Its Growth from an Uninhabited Territory to a Wealthy and Important State; of Its Early Settlements; Its Rapid Increase in Population, and the Marvellous Development of Its Great Natural Resources. Also an Extended Description of Its Counties, Cities, Towns and Villages, Their Advantages, Industries, Manufactures and Commerce: Biographical Sketches, Portraits of Prominent Men and Early Settlers; Views of Residences and Business Blocks, Cities and Towns. Chicago: The Western Historical Company, 1882.