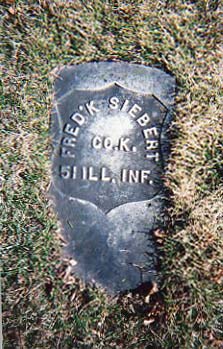 Frederick Siebert (Severt)
Private, Company K
Frederick Siebert (often "Severt" in military records) was born, according to church records, August 4, 1824 in Prussia. Siebert first settled in the Northfield area of Cook County, Illinois in the early 1860s.
Military records list Siebert as a farmer at the time he was drafted in 1864. He was assigned as a new recruit to Company K in late September 1864, just as the regiment finished its tasks in the Georgia campaign. Siebert joined the regiment in October. The Fourth Army Corps, the Second Division, and Bradley's Brigade, of which the Fifty-First was a part, were just embarking upon the defense of middle Tennessee against Confederate General John Bell Hood. The campaign eventuated in the late-year fighting at Spring Hill, Franklin, and Nashville. Siebert lived through that suspenseful period of retreat from Pulaski, Tennessee to Nashville and the horrific fighting at Spring Hill and Franklin. He was mustered out of the service on June 16, 1865. His period of service was thus brief but intense.
Siebert's first wife was Maria; the 1870 census found them in Northfield Township with four children. The 1880 census shows Frederick with his second wife Caroline Koch, who was born in Germany (Mecklenburg) in 1834—and with children.
Siebert died on March 4, 1899 and was buried in the St. Peter cemetery at Northbrook (then Shermerville), Illinois—same cemetery where his regimental comrade, Nicholaus Gerken, is buried. Siebert's wife Caroline and his mother are also buried in St. Peter Cemetery, but only Frederick's gravestone remains.
---
Sources:
Frederick Siebert, Compiled Service Record, Records of the Adjutant General's Office, 1780's-1917, Record Group 94, National Archives and Records Administration, Washington, D.C.
Many thanks to Lee Buss for biographical information.
Photograph courtesy of Nicholas Kaup, Northbrook, Illinois.
United States Census, 1870, 1880.