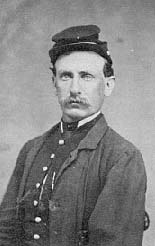 Jacob H. Shirts
Principal Musician
Jacob Shirts was born in Wayne County, New York on October 12, 1844. He was 18 years old and living in Wauconda, Lake County, Illinois when he signed up as the fifer of Company G of the Fifty-First Illinois on November 1, 1861. He was promoted to principal musician, "fife major", on July 31, 1863 and thus transferred from Company G to regimental headquarters non-commissioned staff.
He was captured at the Battle of Chickamauga on September 20, presumably while attached to the ambulance corps, like other musicians of the regiment on that second day of the battle. He was not wounded.
The rest of his military days were spent in the hands of his Confederate captors. He was transported to Richmond from the Georgia killing fields and arrived in Richmond on September 29, 1863. On December 12, 1863, like many of his Chickamauga and Fifty-First-Illinois comrades, he was transferred to prison in Danville, Virginia. In March or April, 1864 he was again transferred, this time to Andersonville. His last months in captivity were spent at the new stockade in Florence, South Carolina, to which he was transferred on October 2, 1864. He was paroled at N. E. Ferry on the Black River, near Wilmington, North Carolina on February 27, 1865. From there he went to Coast Guard Barracks in Maryland, thence to Benton Barracks, St. Louis, Missouri in mid-March. On March 23, he was furloughed to visit his family for 30 days. He returned to Springfield, Illinois for muster-out—May 11, 1865.
Shirts married Elizabeth Diedrich on September 16, 1866 in Bloomfield, Walworth County, Wisconsin. They lived in McHenry and Chicago, Illinois and Moberly and St. Louis, Missouri before settling in Neosha County, Kansas, in the town of Chanute, in 1883. After the war, Shirts gave up farming and earned his living as a railroad engineer, before moving on to other occupations as mentioned in his obituary below.
In 1862, in the period after New Madrid and Island No. 10, Shirts was treated for a long time at the regimental hospital at Big Springs for "rhemuatism" contracted while slogging through the battle swamps. At Andersonville, Shirts suffered dysentery and scurvy. The effects of these ailments became worse and worse over time and hastened Shirts' demise. He died on August 9, 1911. Two days later he was buried in Chanute's Elmwood Cemetery. The following obituary appeared in The Chanute Daily Tribune on August 10, 1911:
J. H. Shurtz died at his home, 318 North Wilson avenue, last evening at 6 o'clock. He had been confined to the house for the past six weeks and his physician says that he should have given up work and taken to his bed several months ago. Mr. Shurtz would not consent to this, however, and stuck to duty as long as possible. The end was expected all day yesterday, as he suffered a relapse night before last which left him in an unconscious condition. His physician gives the cause of the relapse as a paralytic stroke caused by a broken blood vessel in the brain. Even when his condition was serious Mr. Shurtz refused to remain in bed and walked from his bedroom to the dining-room to take his medicine and what little nourishment he was able to take. Mr. Shurtz had been a resident of Kansas since 1883 and had lived in Chanute and its vicinity most of the time. He was first employed as an engineer on the Santa Fe railroad, later as engineer at the city water plant, and for some time he was interested in the ice plant at Humboldt. For the past ten years, however, he had been night watchman for the Chanute merchants. He was the first engineer at the pumping station of the city's water works plant, having charge when the tests were made to decide whether the machinery was up to the requirements of the contract. He remained engineer at the plant for some time, the family making their home in the power house on the banks of the river. He was a veteran of the civil war, having served in Company G, Fifty-first Illinois regiment. He was born in Lyons, N. Y., October 12, 1844. Mr. Shurtz is survived by a wife, two sons, George and Harry of Chanute, and three sisters, Mrs. S. F. Jackson of Kansas City, Mrs. E. J. Haneley of West McHenry, Ill., and Mrs. W. E. Salisbury of Rockford, Ill.
Shirts sometimes spelled his name "Shirts" and sometimes "Shirtz". He said he was "Shirts" on his discharge papers. His wife, born Diedrich, preferred to spell the name "Shurtz". Jacob died first, and so their gravestone reads S-h-u-r-t-z. These are the gravestones from Elmwood Cemetery:
Sources:
Soldier photo courtesy of Historical Data Systems, American Civil War Research Database at www.civilwardata.com.
Elmwood Cemetery photos courtesy of Judy Mayfield in her Findagrave.com activities.
Jacob Shirts, Compiled Service Record, 51st Illinois Infantry, Records of the Adjutant General's Office, 1780's-1917, Record Group 94, National Archives and Records Administration, Washington, D.C.
Jacob Shirts, Pension File, Records of the Veterans Administration, Record Group 15, National Archives and Records Administration, Washington, D.C.