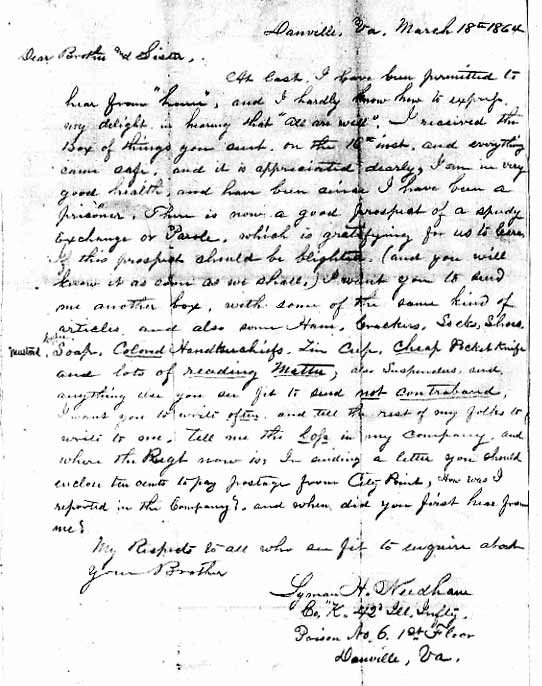 Lyman H. Needham
Co K, 42nd Illinois
Letters from Danville Prison
Needham was wounded and taken captive on September 20, 1863, the second day of the fighting at Chickamauga in northwest Georgia. On September 29, Needham was processed for confinement in Confederate prisons at Richmond, Virginia. The family first had direct news of Needham's whereabouts in a communication from the regiment, now in the holdings of the Abraham Lincoln Presidential Library at Springfield, Illinois. The fragment is dated "Nov 12th"; it has no year and no signature. It reads: "Sergt Needham was wounded on Thursday Sept 20th in the chin [incorrect, as shown by Needham's own letter below] and is now a prisoner in Richmond, Va. His wound is not supposed to be serious, as all those who were dangerously wounded were brought within our lines under a flag of truce. As you know, Capt. Foster is also in Richmond and it is from him that we have intelligence of Needham." [Joseph Foster was Captain of Company K of the Forty-Second Illinois, Needham's company.]
Needham's first letter from Danville (shown on this page):
Danville, Va. March 18th 1864
Dear Brother and Sister,
At last I have been permitted to hear from "home", and I hardly know how to express my delight in hearing that "all are well". I received the box of things you sent on the 16th inst. and everything came safe, and it is appreciated dearly. I am in very good health, and have been since I have been a prisoner. There is not a good prospect of a speedy exchange or parole, which is gratifying for us to learn. If this prospect should be blighted (and you will know it is soonas we shall) I want you to send me another box, with some of the same kind of articles and also some ham, crackers, socks, shoes, mustard, coffee, soap, colored handkerchiefs, tin cup, cheap pocket knife and lots of reading matter, also suspenders and anything else you see fit to send not contraband. I want you to write often and tell the rest of my folks to write to me. Tell me the loss in my company and where the regt now is. In sending a letter you should enclose ten cents to pay postage from City Point [Virginia]. How was I reported in the company? and when did you first hear from me?
My respects to all who see fit to enquire about
Your Brother
Lyman H. Needham
Co. "K" 42d Ill. Infty.
Prison No 6. 1st Floor"
Danville, Va.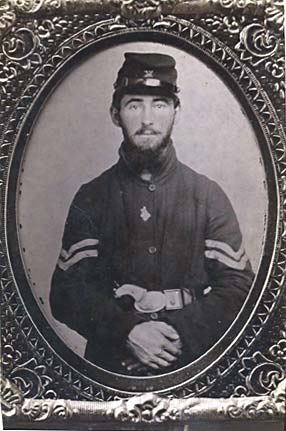 Needham Himself
with a Corporal's Stripes
Needham wrote again from Prison No 6, 1st Floor, Danville—on April 10, 1864 to his father. By this date, many of his imprisoned comrades had been transferred to the new prison at Andersonville, Georgia. Here is the text of Needham's letter:
My Dear Father,
Thinking you would like to hear from me after a silence of seven long, long months, I will write a few words. I suppose you have heard when and how I was taken prisoner ere this, and will not give you an acount of it at present. I should have written long, long ago, but I kept hoping that we would soon be exchanged, and then perhaps I might get a furlough and go and see you. Yet I will not wait longer, althought I may get through as soon as my letter does, for it seems that a general exchange has been agreed upon, yet it seems to me that they work very slow about it. My health is very good and has been most of the time since I have been prisoner. My wound does not trouble me much, only when I take cold. The ball lodged in my right side and has not been extracted. I have received one letter and a small box of things from Eli's folks and I was very good to get them. I guess I have written about enough for this time, and I will write again if we are not exchanged before a great while. My Love to all and I should be very glad to get a letter from you.
From your son
Lyman H. Needham
Relatively soon after this letter, yet in April or perhaps in May, Needham was moved to Andersonville. In late August, he was transferred to the Andersonville prison hospital. He died of scurvy, according to army prisoner-of-war records, on September 1, 1864.
---
Sources:
Photo, courtesy of R. Driggers.
Lyman Needham Papers, SC 1094, Abraham Lincoln Presidential Library, Springfield, Illinois.
Lyman H. Needham, Compiled Service Record, 42nd Illinois Infantry, Records of the Adjutant General's Office, 1780's-1917, Record Group 94, National Archives and Records Administration, Washington, D.C.