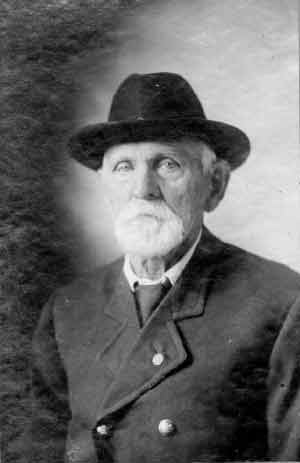 Lieutenant William Morton
Company E
Morton was born in Pennsylvania. At the time of his enlistment in 1861, he was a farmer living in Champaign County. He was 29 years old.
Morton was promoted to sergeant early in 1863. He apparently came through the two days of Chickamauga unscathed. He reenlisted in December 1863.
Morton was wounded by an exploding shell during the June 27, 1864 assault on Kennesaw Mountain. He recovered in federal hospitals in Nashville and then returned to the regiment in November, 1864. Morton was promoted second lieutenant of his company on November 28, 1864, and, for a period after the Battle of Franklin, when the companies were diminished in numbers and the officers few, commanded Companies E and F together.
The Portrait and Biographical Album of Champaign County, Illinois of 1887 carried this biographical sketch of Morton:
William Morton, who is pursuing the even tenor of his way on a fine farm in St. Joseph Township, became a resident of this county soon after the war. He is the owner of nearly 300 acres of good land, the choicest being in the home farm of eighty acres, which lies on section 25. Here, of late years, in addition to general farming he has given much attention to stock-raising, having a fine herd comprising seventy-five head of short-horn cattle, a number of good horses, and is also engaged in breeding very fine Poland-China hogs.
The subject our sketch was born near Blairsville, Indiana Co., Pa., March 23, 1832. His grandfather, John Morton, also a native of the Keystone State, was born near Harrisburg and married Miss Mary Bell, a Pennsylvania lady. The Morton family is of Scotch ancestry, the first representatives coming to this country in the eighteenth century, and locating, it is believed, in Pennsylvania during its earliest sttlement. The children of John and Mary (Bell) Morton included a son, John, who afterward became the father of our subject. He was born and reared in Indiana County, Pa., and married Miss Elizabeth, daughter of Samuel and Eliza Young, the former a native of Ireland and the latter of American birth. The father of our subject learned the trade of wagon-making early in life, but afterward engaged in farming and remained a resident of his native county his entire life. He was born in January 1800, and died in June, 1878. His wife, Elizabeth, was born in 1808, and preceded her husband to the silent land March 4, 1844. Their ten children included three sons and seven daughters, five of whom still survive.
William Morton, who was the sixth child of his parents' family, spent his boyhood and youth upon the old homestead in Pennsylvania, receiving a common-school education and being trained to habits of industry and those principles which form the basis of an upright and honest character. In the spring of 1854, after becoming of age, wishing to see something of the world outside of his native State, he proceeded to Indiana and engaged first as a boatman on the Wabash Canal. A year later he repaired to Perryville, Ind., where he remained two years, and then coming to Danville, this State, remained there also two years. In 1856 he was employed on a cattle ranch where he continued for three years following, and until the outbreak of the late Civil War.
Mr. Morton was one of the first to respond to the call for troops to aid in the preservation of the Union, and enlisted in the spring of 1861, in Co. E, 51st Ill. Vol. Inf. His army life comprised a period of four years and twelve days, during a part of which his regiment belonged to the 20th Army Corps, which operated mostly in Missouri, Tennessee and Georgia. He took part in many of the important battles of the war, including a number of skirmishes with the enemy, being at New Madrid, Island No. 10, Farmington, Stone River, Chattanooga, Chickamauga and Mission Ridge. In the spring of 1864, his regiment was in the 3d Brigade 2d Division 4th Army Corps, detailed to go to the Southeast, where they participated at Resaca and all the engagements of the campaign. In the battle of Kennesaw Mountain our subject lost two fingers of his left hand by a gunshot from the enemy. He was confined in the hospital for sixty days, and in the meantime his bravery was rewarded by being commissioned Second Lieutenant. Afterward he was present at the battles of Spring Hill and Franklin, in the latter of which the commanding officer was wounded, and Lieut. Morton was placed in command of the company at the battle of Nashville. They followed Hood's army across the Tennessee, were soon afterward sent to Nashville, and went into winter quarters at Decatur, Ala. In the spring of 1865 they were ordered to Bull's Gap, Tenn., where they were encamped at the time of Lee's surrender. The regiment was mustered out near Camp Irwin in September, 1865.
After receiving his honorable discharge Lieut. Morton returned to Champaign County and purchased his present farm. He has been uniformly prosperous in his agricultural operations and has contributed his full quota toward the building up of his township and community.
Morton died in Homer, Illinois on August 2, 1918.
---
Sources:
Photograph courtesy of Homer Historical Society, Homer, Illinois.
Biographical research, William Edward Henry.
William Morton Compiled Service Record, 51st Illinois Infantry, Records of the Adjutant General's Office, 1780's-1917, Record Group 94, National Archives and Records Administration, Washington, D.C.
The Portrait and Biographical Album of Champaign County, Illinois, Containing Full Page Portraits and Biographical Sketches of Prominent and Representative Citizens of the County, Chicago: Chapman Brothers, 1887, pp. 924-5.