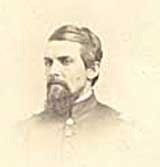 Lieutenant Otis K. Moody
Company K
Brigade Acting Assistant Adjutant General
Otis Moody, according to United States census and other public records, was born in 1829 in Massachusetts in the County of Hampshire, the youngest child of Levi and Mary Moody. The 1860 census shows Otis and his older brother Andrew sharing the same abode in Chicago, both of them "master builders". Andrew was married; Otis was not.
Moody enrolled for military service with the Fifty-First Illinois on September 20, 1861, exactly two years before his death on the Chickamauga battlefield in the wee hours of the morning of September 20, 1863. Moody was 32 years old at the time he signed up. He was commissioned first lieutenant of Company K, a company officered entirely by residents of Chicago and comprised in large part by enlisted men of Cook County.
Immediately after the Battle of Stones River when Luther Bradley took over command of the brigade of which the Fifty-First was a part, Bradley's General Order No. 1 detailed Moody as his acting assistant adjutant-general—or "AAG". The position was not as acting and not as assistant as it sounds, reflecting rather contemporary military bureaucracy relative to the position of regimental adjutant. It was a position heavy with administratrive burden, critical to the efficient operation of a military unit. Once Moody became Bradley's adjutant, his official duties lay with Bradley and the brigade rather than with Company K, though Moody continued to be the commissioned first lieutenant of that company.
Lewis Hanback of the Twenty-Seventh Illinois, one of the regiments brigaded with the Fifty-First, was the inspector-general of the brigade. As members of Bradley's staff Moody and Hanback were often thrown together. They worked together and spent off-hours together. They first began to appreciate the humor and intelligence of the other at readings of a manuscript that was making the rounds of various brigade headquarters of the Army of the Cumberland; it was a work called "The Annals of the Army of the Cumberland" and it was intended for publication in Philadelphia. Moody was of the opinion that the writing was too dry and needed to be spiced up with anecdotes. When the "Annals" was published anonymously in late 1863 (John Fitch was the unnamed author-compiler), the preface stated that the work was a "collection of sketches and portraits... and a narration of many interesting events." The nameless author wrote that he collected some of the information himself and that in other cases "brief outlines were furnished". Beyond this effort of literary criticism, Moody teased Hanback about the constant flow of letters to his woman friend Hettie, Hanback teased Moody for his citified ways; they discussed slavery and emancipation; they assessed the war in the East; they shared brigade and division gossip; they became fast friends. They marched and marched through Tennessee in the first nine months of 1863 as Rosecans backed Bragg away from Tullahoma, and inspected the companies of the regiments of the brigade, and bundled up the rolls and sent them up the chain of command, and marched into Georgia.
In the late afternoon of September 19, 1863, Bradley led his brigade—rather than ordered it—up the rising ground into the east Viniard field. Adjutant Moody was with him—to receive orders from Bradley and dispatch them as necessary to other officers. Within fifteen minutes, Bradley was wounded twice, Moody was shot and critically wounded, and another ninety men of the regiment were also hit. Moody's friend and onetime tent-mate Henry Buck, who had command of Company K, was shot in the head and killed. When the Confederate forces contented themselves with the ground they held and the firing ceased, or nearly ceased, the musicians and cooks and half-sick of the ambulance corps went to work; they moved Bradley and Moody, and Simons and Casey, back west across the Lafayette Road—Bradley was able to walk part of the way with a shoulder to lean on—and south toward the hospitals above Crawfish Springs. They left Buck dead where he lay, too far to the front to recover—there was still shooting across the no one's land between the lines. Moody, Colonel Bradley, and other wounded men of the Fifty-First and other regiments were taken to a small cabin that served as part of a hospital. Hanback called it a "miserable log hut". The hut was Moody's morgue.
Lewis Hanback stayed with Moody the last six hours of Moody's life. Hanback gave a brief account in a letter of October 18 to Moody's mother; attached to the letter was a hand-drawn map showing the location of Moody's grave.
Hanback to Mrs. Moody: "I watched beside him..."
Within half a year a detail of Federal soldiers located the graves of Moody, Casey, Simon, Buck, and others. Then, on April 21, seven months after Moody's death, "A party from the regt visited Chicamauga battle field and recovered the bodies of Lieuts Simons, Buck & Moody, Sergt Major Casey, Corporal Nelson of Co A & Private McBride of Co. D & Bilby of Co E. The bodies had been so poorly buried by the rebs that subsequent rains had exposed the remains. Lt. Buck's body was identified by a pair of his shoulder straps and the gold filling in his teeth, Bilby by his red hair and the others by finding them right where they fell in battle or where we left them. All were reinterred in National Cemetery at Chattanooga." Here pictured, the graves of Moody, Buck, Simon, French in the National Cemetery.
While back east recovering from his Chickamauga wounds, Colonel Bradley stopped in Brooklyn to visit Moody's woman friend. Bradley wrote of the visit, "I did go to see Miss Noble in Brooklyn... she is a cultivated and refined woman... She talked much of Moody, and thoroughly appreciated his fine character, and seemed to want to know all his friends."
---
Sources:
Photograph courtesy of the United States Military History Institute, Carlisle, Pennsylvania. The photo was among those in the collection of Luther Bradley, colonel of the Fifty-First Illinois. That collection was donated, along with Bradley's papers, to the USMHI at Carlisle Barracks.
Genealogical research by William Edward Henry.
Otis Moody, Compiled Service Record, 51st Illinois Infantry, Records of the Adjutant General's Office, 1780's-1917, Record Group 94, National Archives and Records Administration, Washington, D.C.
Muriel Culp Barbe, A Union Forever, Glendale, California: Barbe Associates, 1949. Barbe's book is based in part on letters that Lewis Hanback wrote to his future wife Hettie Cooper and on other letters sent by members of Company K of the Twenty-Seventh Illinois. Barbe does not identify those other men or where their letters were at the time. Hanback's letters are held at the Boston Public Library and the Filson Club in Louisville, and other of his letters are at times for sale through auction houses. Some of the Hanback letters that Barbe made use of, it seems, are nowhere to be found. Hanback's Bible is in Boston, his letter to Hettie of May 11, 1862 is in Louisville, his letter to Hettie of May 5, 1862 is in Boston. Hanback's September 26 letter describing Bradley's and Moody's miserable log-hut field hospital was sold at auction in 1999. (We wish we knew whom to.)
Bradley to Sister Buel, Chicago, March 18, 1864, Luther P. Bradley Papers, United States Army Military History Institute, Carlisle Barracks, Carlisle, Pennsylvania.