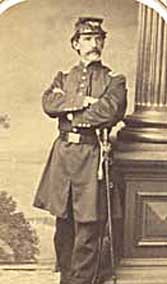 Captain James E. Montanden
Company A
Montanden was born in Elizabethtown, Union County, New Jersey on August 13, 1832. On July 4, 1855, he married Felicia Isbell in Burlington County, Iowa. They had a daughter Nellie born in Iowa in 1857. Their second child, a son George, was born in Chicago in 1859. The 1860 census records put Montanden and his young family in Chicago.
Montanden signed on with the Fifty-First Illinois early—September 20, 1861. The muster roll lists him as a painter. He was mustered in as first lieutenant of Company A and was promoted to captain on June 12, 1863, after the original captain of Company A Henry Wescott was court-martialed and dismissed from the service.
Even before his promotion to captain, Montanden had accepted several administrative positions which discovered his organizational talents and which kept him busy for the rest of the war. In August 1862, he was with the provost marshall's office at Decatur, Alabama. In September 1862 he began serving as acting regimental quartermaster. In January, 1863, when Colonel Luther Bradley took command of the brigade in the aftermath of Stones River, Montanden (by General Order No. 1, dated January 1, 1863) became acting brigade quartermaster and served in that capacity until October 1863 when he became an aide-de-camp to Colonel Charles Harker. At about the same time, other colonels and generals alert to Montanden's skills, assigned him quartermaster of the Pioneer Brigade. Harker "most ernestly" requested that Montanden stay on his staff, "He has long been on Staff duty in his old Brigade and probably understands its wants and necessities better than any officer in it. For this reason I am anxious to retain him with me as his services will be invaluable to me at this time in perfecting the reorganization of my brigade." Montanden stayed on with Harker and served as his aide until March 1, 1864 when he was appointed acting quartermaster at Bridgeport, Alabama.
When Henry Howland, the first regimental quartermaster of the Fifty-First Illinois, requested reassignment of Montanden to divisional quarter master duties (Montanden was then still on Harker's staff), Howland wrote (January 31, 1864), "Captain Montanden is an excellent officer and a practical business man and, for the particular duties to which I wish him assigned, as quartermaster in charge of government shops, I know not his equal." Howland failed in this first attempt to secure Montanden's services, but in April 1864, Montanden did transfer to the quartermaster's office under Howland in Bridgeport, Alabama. From there, in October 1864, he and Howland transferred their quartermasterly functions to Johnsonville, Tennessee, which was the terminal of the railroad on the Tennessee River and "the main point for supplies from the Ohio and Mississippi... it is growing in importance every day. Bridgeport is now of no importance." Montanden stayed at Johnsonville until the war returned to Tennessee in late 1864 and Johnsonville was evacuated. In January 1865, Montanden took on his last administrative position—acting quarter master of the Seventh Division of the Army of the Cumberland Cavalry Corps.
Montanden was one of the few original officers still with the regiment when it completed its last task in Texas in September, 1865.
The 1870 census finds Montanden in Topeka, Kansas. In 1900, he was living in Tacoma, Washington (as was the colonel of the Fifty-First Luther Bradley); he was working in a lumber yard. He died in Tacoma on June 21, 1907.
---
Sources:
Photograph courtesy of the United States Army Military History Institute, Carlisle Barracks, Carlisle, Pennsylvania.
Edna Warren Mason, Descendants of Robert Isbell in America, New Haven, CT: Tuttle, Morehouse and Taylor Co., 1944.
Additional genealogical research by William Edward Henry.
James Montanden Compiled Service Record, 51st Illinois Infantry, Records of the Adjutant General's Office, 1780's-1917, Record Group 94, National Archives and Records Administration, Washington, D.C.