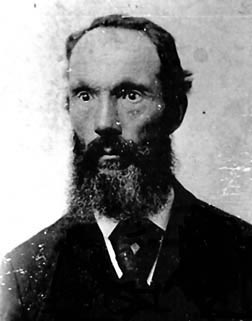 Adolphus P. Minard
Private, Company H
Minard was born in Ohio on July 28, 1840. He was earning a livelihood as a carpenter and living in Victoria, Knox County, Illinois when William Greenwood signed him up for the company of "sappers and miners" that he was organizing in Western Illinois in late 1861 and January 1862. However, the skills of Greenwood's men went untapped for the time, as they had to muster in as "ordinary" infantrymen.
In Late May 1862, Minard was assigned to detached service as a nurse in the Federal field hospital at Farmington, Mississippi. The assignment was brief and Minard returned to Company H on June 3, right after the Evacuation of Corinth when the regiment moved forward to a new camp.
Minard did have an assignment that took advantage of his carpentry skills. General Rosecrans by General Order No. 3, First Series, November 28, 1862, required two men from each company to be detached for service in the Army of the Cumberland's "Pioneer Corps". Minard was one of those selected from Company H of the Fifty-First Illinois. The men of the Pioneer Corps were Rosecrans' bridge-builders, way-clearers, and entrenchment experts. They served as infantry when the Army of the Cumberland engaged the enemy. The Pioneer Corps served with distinction at Stones River. Minard was assigned to Company B, First Battalion of the Corps and remained with it until it was disbanded in July 1864.* He then returned to his regiment and company.
In December 1862 and again in early 1864, Minard was put on detached service from his detached-service Pioneer Corps and served as battalion headquarters orderly.
He was with the regiment through the latter half of the Georgia Campaign and then back to Tennessee in the struggle against Hood. He was wounded in the left arm at the Battle of Franklin on November 30, 1864. He escaped capture when many, many of the regiment did not—among those who did not was his Company H comrade from the Pioneer Corps, A. Kiser Lansdowne, who was wounded in the leg, taken captive, taken back by his friends two weeks later, and who then died in a Nashville hospital in January, 1865. Recovering from his wound, Minard was first hospitalized in Nashville and then moved to the Joe Holt U. S. General Hospital in Jeffersonville, Indiana (across the Ohio River from Louisville).
Minard did not reenlist, and never returned to the regiment after the Battle of Franklin. He was mustered out of the service on February 17, 1865, his three-year term of service having expired. He was still at the hospital in Indiana at the time of muster-out.
According to a descendant of Minard's, Minard married Ollie R. Harris on November 29, 1865. They moved to Crawford County, Kansas and farmed near the town of McCune. They had five children (Cora, Clara, Sherman, Wilbur, and Flora). Minard died on April 5, 1924. He is buried in the McCune Cemetery.
---
*This explanatory note regarding the Pioneer Corps, or brigade, is affixed to Minard's service record: "This Brigade was organized by details of twenty men each from all Infantry regiments in the Army of the Cumberland, per G. O. No. 3, dated Department of the Cumberland, November 3, 1862, and instructions from Headquarters 14 A. C. of November 21, 1862. The Brigade was broken up and men having more than one year to serve were transferred to the 1 Reg't U. S. Veteran Engineers and the remaining men sent back to their respective regiments by S. O. No. 231, dated A. G. O., July 8, 1864, and G. O. No. 132, dated Department of the Cumberland, September 1, 1864."
Sources:
Photo, courtesy of the United States Army Military History Institute, Carlisle Barracks, Carlisle, Pennsylvania.
Adolphus Minard Compiled Service Record, 51st Illinois Infantry, Records of the Adjutant General's Office, 1780's-1917, Record Group 94, National Archives and Records Administration, Washington, D.C.
http://skyways.lib.ks.us/kansas/genweb/civilwar/countyC.html