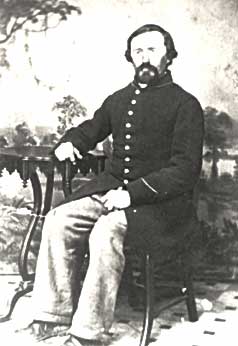 Private Duncan McGillis
Company B
McGillis joined the Fifty-First Illinois regiment at Camp Douglas in late 1861. At the time he was 37 or 38 years old and was farming in Champaign County, Illinois. He reenlisted at Blaine's Crossroads, Tennessee in late 1863. He survived through the end of the war.
McGillis was born in Canada.
McGillis left a story behind that did not catch him at his best—he reenlisted at the end of 1863, went to Illinois on veteran furlough, and then joined up with the reassembling regiment around March 18, 1864. The Chicago Times of that date captured McGillis final display of independence before the military closed around him again. Here's the story: "LAWLESSNESS.—A soldier named Duncan McGillis was found upon the street at three o'clock yesterday morning, creating disturbances with every one he met, and making all the noise he possibly could. Officer Churchwood, in consideration of the fact the he was drunk, felt disposed to befriend the boisterous soldier, and induced him to go to the Soldiers' Home, hoping to thus avoid further difficulty. On arrival at the Home, McGillis turned upon the officer, assaulted him with desperate energy, and pushed him headlong down a flight of stairs, dislocating the thumb of his right hand, and otherwise injuring him. Procuring assistance, the ruffianly soldier was secured and taken to the Station House. He was fined forty dollars and costs at the Police Court yesterday morning." (The Times knew how, with their own grammatical lawlessness, to dangle a participle.)
Unfortunately, there was more to the story, but not much. The Chicago Times of March 26, 1864 carried an article titled "The Death of Policeman Churchwood". According to that article, soon after McGillis and Churchwood fell down the stairs of the Soldiers' Home, Churchwood's hand became inflamed, and then phlegmonous erysipelas of the entire arm followed. Doctors, unaware that Officer Churchwood suffered "a constitutional tendency to bleed", made incisions to relieve the pressure of the swelling. Churchwood bled to death on March 24. By then, McGillis would have been in camp at Camp Fry on the northern edge of Chicago where the Fifty-First was reassembling at the end of their veteran furlough. Whether he knew of this denouement or not, we do not have record.
McGillis served with the regiment to its very last day as a regiment, September 25, 1865.

---
Photograph courtesy of the Crawford Collection at the United States Military History Institute, Carlisle, Pennsylvania