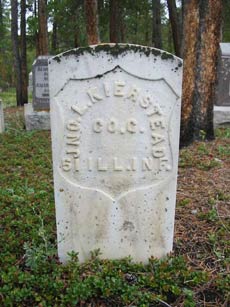 John Kierstead, Company G
Kierstead was born in 1842 in Michigan. He was 18 years old when he was recruited by Captain Theodore Brown for service in the Fifty-First Illinois in February, 1864, at the time of the regiment's reenlistment furlough. Kierstead was mustered out at the end of the regiment's career in September, 1865. He died on June 27, 1909 and was buried at Valley Brook Cemetery in Breckinridge, Colorado.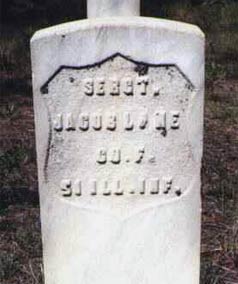 Jacob Lane, Company F
Lane was born in 1838 in St. Lawrence County New York. He was enrolled in George Bellows' infantry company in March 1862. Bellows' company became Company F of the Fifty-First Illinois and joined the regiment in the field in July 1862. At the time of enrollment, Lane was a twenty-two year old farmer living in Mason County, Iowa. He mustered out of the regiment in June, 1865. Lane died in 1907 and was buried at Hill Top Cemetery in Pagosa Springs, Archuleta County, Colorado.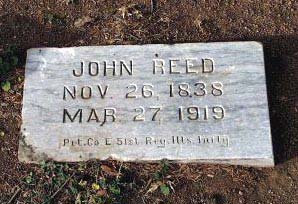 John Reed, Company E
According to Reed's military records and the Boulder, Co. geneaology web-pages, Reed was born in Ohio on November 25, 1838. He was living in Vermilion County, Illinois at the time John McWilliams (later captain, Company E) enrolled him for military service in November, 1861. He was single and a farmer by occupation at the time. He was severely wounded at Chickamauga but escaped capture and, upon recovery, continued his service with the regiment. He did not reenlist and mustered out of the service in January 1865. After the war, Reed continued farming. He spent the last 30 years of his life in Boulder, Colorado, dying there at home on March 27, 1919 of arteriosclerosis. His grave is located at A89-1 NW in Boulder's Columbia Cemetery.