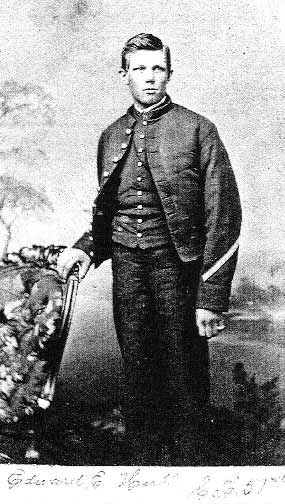 Edward E. Hull
Private, Company E
Edward Hull was born in DuPage County, Illinois. His father Stephen Hull was born in New York, his mother Mary in Vermont. Of their five children, Edward was the only one born in Illinois, the family having migrated to Illinois around 1845. The 1850 census in the Hull household was conducted on August 21, 1850. At that time Edward's age was listed as "3".
In September 1861, Hull enlisted in the Fifty-First Illinois under the name of "Henry Davis". He was fourteen or fifteen years of age at the time—and the minimum age for enlisting without parental consent was eighteen. Presumably, "Henry Davis" of McHenry County was Edward Hull's identity for being an 18-year-old without need for parental consent; the regimental records give his age at enrollment as eighteen.
Hull reenlisted at the end of 1863 at Blaine's Crossroads, Tennessee when most of the men of the regiment reenlisted. His muster-in record as a veteran volunteer, dated February 8, 1864, gave his home as Naperville and his age as eighteen. Edward had not aged during his two-plus years of military service (he was probably only seventeen).
Edward, still one of the boys of the regiment, was killed in the skirmishing around Kennesaw Mountain on June 15, 1864. He doesn't have the look of an old man in his picture at left.
---
Sources:
Photo courtesy of Frank Crawford, Civil War researcher and collector, who lives in Illinois.
Henry Davis/Edward Hull, Compiled Service Record, 51st Illinois Infantry, Records of the Adjutant General's Office, 1780's-1917, Record Group 94, National Archives and Records Administration, Washington, D.C.