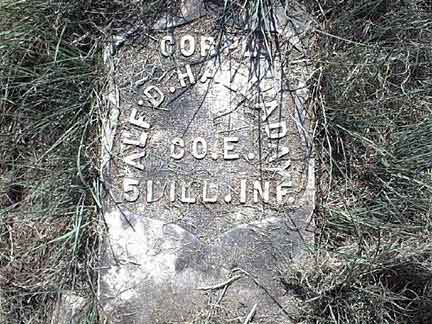 Alfred Halladay
Corporal, Company E
According to military records, Alfred Halladay was born in February 1838 in Highland, Highland County, Ohio. His name appeared as "Holiday" sometimes in military records and every possible way in census records, including "Holladay" and "Hollady" (he signed his 1863 reenlistment documents "Halladay"—and so reads his gravestone).
Halladay was living in Urbana, Champaign County, Illinois when he signed up for service with the Fifty-First Illinois Infantry in October 1861. Halladay was never away from the regiment on account of illness. He was promoted to corporal. In late 1863, Halladay reenlisted for another three years service or until the end of the war whichever came first. On December 1, 1864, the day after the Battle of Franklin, Halladay was promoted to eighth corporal. On January 16, 1865, he was promoted to seventh corporal. There is no record that he was ever wounded.
Halladay was mustered out in Texas on September 25, 1865—when the regiment itself formally terminated its existence.
Halladay, under circumstances unknown to us, migrated to Texas at some point after the war. He married a Texas-born woman Louisa McAllister. The 1880 census showed Halladay (spelled "Holladay") in Lampasas County, Texas, living with wife Louisa. Alfred was shown as the head of house, which was shared with his mother-in-law and other McAllister in-laws. Louisa was fourteen years her husband's junior. They had no children. Alfred was listed as a farmer. In 1900, "Holladay" was living in Williamson County, Texas, as part of the William and Laura Baldwin household, Laura being Louisa's younger sister. The 1910 Federal census showed Halladay living in Wise County, Texas with wife Louisa.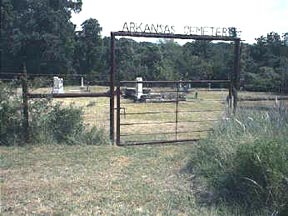 He is buried in Wise County, in Arkansas Cemetery (shown in the picture on this page). His gravestone is the standard government military marker. It bears no birth or death dates. His death certificate, filed in Wise County, shows his name as Alfred Holliday. The date of death was February 9, 1917, at Boyd, Texas. The cause of death was given as "asthma & la grippe". There seem to be none of Halladay's relatives buried in Arkansas Cemetery.
---
Sources:
Alfred Halladay (Holiday), Compiled Service Record, Records of the Adjutant General's Office, 1780's-1917, Record Group 94, National Archives and Records Administration, Washington, D.C.
Thanks to Sue Tackel and David Smith for their Rootsweb (http://homepages.rootsweb.ancestry.com/~drycreek/civil_war.htm) information about cemeteries in Wise County, Texas and veterans in Wise County. The death certificate was also made available by Sue Tackel.
United States, Bureau of the Census. Tenth Census of the United States, 1880.
United States, Bureau of the Census. Twelfth Census of the United States, 1900.
United States, Bureau of the Census. Thirteenth Census of the United States, 1910.
(Note: 1870 Census, Illinois, Pike County, Hardin Township: Alfred Holliday, age 31, born Ohio, wife Sarah E.)