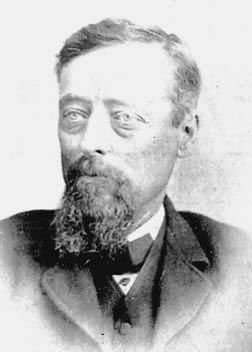 Edgar B. Gorham
Sergeant
Company G
According to his military records, Edgar Gorham was born in New York in 1841. He was living in Fremont Township, Lake County, Illinois when he enlisted on October 22, 1861. Merritt B. Atwater enrolled him in Captain Wentz' company which became Company G of the Fifty-First Illinois Infantry.
Except for a bout of illness (probably measles or mumps) while the regiment was still at Camp Douglas, Gorham was always available for duty—until he was shot in the head on September 19 at Chickamauga where, in the two days of fighting, five men of Company G were killed, another twelve were wounded, and four were missing and in the hands of Confederate soldiers.
Records for Gorham for the end of 1863 and beginning of 1864 are missing, so we can't tell how long he was off duty, but he reenlisted with many other men of the regiment in East Tennessee at the end of 1863. Gorham was with the regiment all through the Georgia Campaign of 1864 and Spring Hill - Franklin - Nashville in November and December, 1864.
Gorham mustered out as Sergeant on September 25, 1865, the regiment's last official day. His pay was docked $0.28 for the screwdriver he lost.
---
Sources:
Photograph courtesy of the United States Army Military History Institute.
Edgar Gorham, Compiled Service Record, 51st Illinois Infantry, Records of the Adjutant General's Office, 1780's-1917, Record Group 94, National Archives and Records Administration, Washington, D.C.