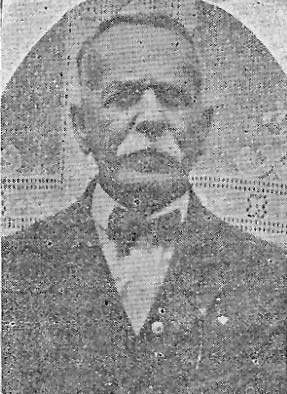 Daniel Ebert
Sergeant, Company K
Daniel Ebert was born in Cumberland County, Pennsylvania on May 26, 1841. His parents Philip and Mary Ebert had twelve children. Between 1845 and 1850, the family migrated to Illinois, settled near the now extinct town of Fountain Green in Hancock County where Philip engaged in farming. His sons, including Daniel, joined him in farming when they came of age.
With the Fifty-First Illinois. Otis Moody, the first first lieutenant of Company K, signed Daniel up for military service at Tennessee, Mcdonough County, Illinois on December 23, 1861. At the end of 1863, Daniel along with many other members of the regiment reenlisted as a veteran. He was soon promoted to corporal. On July 20, 1864, Ebert was promoted from corporal to fifth sergeant. On September 1, 1864, he was promoted to third sergeant. For most of the life of the Fifty-First Illinois, Ebert lived a charmed existence. He was absent-sick in May 1862 at Farmington, Mississippi when many members of the regiment were ill with fevers and malaises (as the number of those buried in Corinth, Mississippi bears witness), but recovered and was never ill again and never wounded. But his good fortunate shattered to an end at Franklin, Tennessee on November 30, 1864 when he was captured by the enemy—with numerous other men of the regiment—when blundering generals positioned the Fifty-First and several other regiments on a vulnerable forward line.
Daniel was incarcerated at the Confederate stockade at Andersonville, Georgia. After about four months at Andersonville, when the war was finally drawing to a close, Ebert was paroled in late March 1865 at Vicksburg, Mississippi. He was ill with diarrhea and was immediately admitted to the parole camp's hospital for a week or ten days. He was then sent on to Benton Barracks in St. Louis, arriving there on April 26, 1865. He received a thirty-day furlough and saw his family again for the first time since December, 1861. He returned to duty in July, not with the regiment, but at Benton Barracks and Springfield, Illinois—awaiting discharge. He was mustered out on August 9, 1865. The regiment was in Texas with another six weeks of service ahead of it.
After the war Ebert returned to Illinois where he again took up farming. He married Fannie George on February 7, 1867. They had several children. The family resettled to Hancock County. Fannie died on June 2, 1877. On November 1, 1877, Daniel married Elizabeth Sibert; they had several children. Elizabeth died on March 1, 1892. Daniel again married—on March 23, 1893 to Sarah Denison; they had no children.
Daniel died on May 10, 1926, almost sixty years after he last stood in line of battle at Franklin, Tennessee. The obituary below is taken from Ebert's local newspaper, The News of Fountain Green, dated May 12, 1926.
Taps Sound for Civil War Veteran
Our Last Old Soldier
"Soldier sleep thy warfare o'er. Sleep the sleep that knows no waking until the resurrection day."
Daniel Ebert, a veteran of the Civil war, and a valiant soldier of the cross answered the call of the Great Commander, on the morning of May 10th, 1926, aged 84 years, 11 months and 14 days.
Time had lightly touched this grand old man who, with mental an physical forces unabated, has long continued hale and hearty in spite of advancing years. He had in mid-life successfully battled with serious sickness, but it was not until recent months that signs of weakness became evident and an old trouble seemed to menace. In the early spring a very sudden and very violent seizure made necessary immediate surgical aid. At the time when it appeared his hours were numbered, he passed through the operation which was very successfully and skillfully performed and promised good results. Mr. Ebert rallied promptly, and during the weeks which followed, seemingly responded to the trained and tender care with which he was constantly surrounded. Hope but lately gave place to fear as his vitality appeared to lessen, but later waned rapidly until the summons came.
Daniel Ebert was a native of Cumberland Co. Penn. where he was born May 26th, 1841. He was the son of Philip and Mary Ebert, of whose family of twelve children there remain Mrs. Sophia Goldsberry of Lombard, Ill., Mrs. Jennie Long of Farragut, Iowa. Mr. Ebert emigrated westward in early manhood locating near Fountain Green, Ill.
On Feb. 7, 1867 he was united in marriage to Fannie George. Of the six children born to them, there survive Mrs. Leah Massingill of Salt Lake City, Utah, Mrs. Etta Long and Mrs. Gussie Miller of this community. The wife and mother passed away in 1877 and Mr. Ebert was again married to Betty Ann Sibert. Five children blessed their union of whom remain Guy of Fountain Green, Gabe of Elvaston and Mrs. Mae Lenix of near Carthage.
There are also ten grandchildren and seven great grandchildren. Mr. Ebert was again bereft of a faithful companion who was called to her reward March 1st, 1892 and in 1893 married Sarah Dennison who survives him.
When the country called her loyal sons to preserve the Union, Mr. Ebert was prompt to respond and when twenty-one years of age was enlisted as private in the 51st regiment of Ill. Infantry. He holds a war record of which his family are justly proud. Merited promotion came as he faithfully followed the flag facing danger and death in its defense. He held his place in the ranks until he received honorable discharge at the close of the conflict. Of the nearly two hundred volunteers from this community he was the last remaining in this township.
As a private citizen, Mr. Ebert's life was above reproach. He lived well and worthily. His years marked by fidelity to God and man, and he has ever held the esteem and confidence of all good people. He, at different times, served the public officially and creditably. He was converted in early manhood and was for many years a pillar in the M. E. church and later upon the recommendation of Rev. Branic was transferred to Presbyterian church.
His comfortable cottage home in Fountain Green, where he located after the active duties of the farm were no longer followed, has been a favorite rallying place for kindred and friends. His last days have been blessed and brightened by the devotion of his children and his children's children who were ever most kind and constant in their expressed love and loyalty to this aged parent, never failing to gather annually in honor of his natal day, making it a time of gladness and good cheer. Very happily he journeyed toward the sunset gates of life, and at the last, after a brief time of rest from active labors and with little of pain and suffering he passed on to receive the reward of one who had "fought the good fight of faith."
Funeral services were held at Majorville at 11 a. m. Wednesday, May 12, conducted by Rev. F. M. Branic. Interment was in Majorville cemetery.
---
Sources:
Daniel Ebert, Compiled Service Record, Records of the Adjutant General's Office, 1780's-1917, Record Group 94, National Archives and Records Administration, Washington, D.C.
Picture, News of Fountain Green, April 14, 1926, courtesy of Hancock County Historical Society, Carthage, Illinois.
Obituary, News of Fountain Green, May 12, 1926, courtesy of Western Illinois University Archives, Macomb, Illinois.
United States Census, 1850, 1860, 1870, 1880.