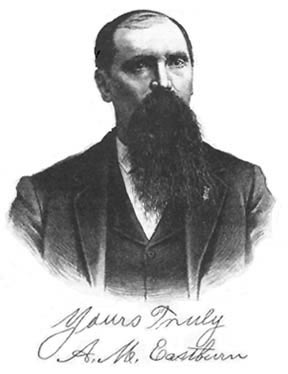 Allen M. Eastburn
Sergeant, Company C
Allen Miner Eastburn was born on August 29, 1842 in Iroquois County, Illinois. He was the son of John B and Sarah (Truitt) Eastburn (married September 25, 1830). At the age of 18 he began working as a farmhand. His incipient career in farming was interrupted by military service with the Fifty-First Illinois Infantry.
Eastburn signed up with the company of recruits that Nathaniel Petts was raising in Middleport, Iroquois County. The company traveled to the new Camp Douglas south of Chicago for training and there became Company C of the Fifty-First Illinois. The regiment headed south to Cairo, Illinois on February 14. Shortly, Eastburn was heading back to Camp Douglas, now as part of a guard detail for Confederate soldiers who were taken captive at the Battle of Fort Donelson. In December 1862, Eastburn was captured at the Battle of Stones River but was recaptured after several hours. He was wounded in the shoulder at Chickamauga on the second day of the battle, September 20, 1863. He was captured by Confederates again, but his wounds were bad enough that he was paroled ten days later with 2500 other Federal wounded (including a number of men of the Fifty-First). Eastburn spent four months in Federal military hospitals. He returned to the regiment at its camp in Chattanooga in February 1864, just in time to reenlist and return to Illinois for the thirty-day reenlistment furlough. Eastburn was then with the regiment throughout the Atlanta Campaign in May 1864 and the Tennessee war against Hood—Pulaski, Columbia, Spring Hill, Franklin, Nashville, October to December 1864. Eastburn served until muster out of the regiment in Texas in September 1865.
After the war, Eastburn returned to Iroquois County and took up farming. He married Sarah E. Pinneo on April 5, 1868. They had nine children. Three of the children died before reaching their maturity. Eastburn's farming endeavors prospered. He owned three hundred acres of the world's best farm land, a farm of considerable size in 1870. He grew crops, raised livestock, and in 1891 built a grain elevator and dealt profitably in grain. In the early 1890s Eastburn established the town of Eastburn, Illinois, a few miles straight east of Watseka, the Iroquois county seat, and our miles west of Sheldon, Illinois on the Toledo, Peoria & Warsaw Railroad. Eastburn envisioned Eastburn as the grain-shipping center of that part of Illinois. (Eastburn still exists as a place name, but the current-day Mapquest aerial view shows it looking more like a farm than a town.)
Eastburn held local offices as school director and commissioner of highways in his community. He died on March 17, 1913 in Iroquois County.
---
Sources:
Allen Eastburn, Compiled Service Record, Records of the Adjutant General's Office, 1780's-1917, Record Group 94, National Archives and Records Administration, Washington, D.C.
Portrait and Biographical Record of Iroquois County, Illinois: Containing Biographical Sketches of Prominent and Representative Citizens of the Counties, together with Biographies and Portraits of all the Governors of the State and the Presidents of the United States, Chicago: Lake City Publishing Co., 1893.
Hettie A. Walton and Eastburn Reeder, The Eastburn Family, Being a Geneological and Historical Record of the Descendants of John Eastburn, Who Came to America in 1684 from the Parish of Bingley, Yorkshire, England, and of Robert Eastburn, Who Married Sarah Preston in 1693, in Yorkshire, England, and Who Came to America in 1713, Bringing with Them a Family of Eight Minor Children, and Settled in Philadelphia, Pennsylvania, Doylestown, Pennsylvania: The Intelligencer Co., Printers, 1903.
Chickamauga Casualty List, Regimental Books Fifty-First Illinois Infantry, Record Group 94, National Archives and Records Administration, Washington, D. C.
United States Census, 1880, 1900.