John Dieter
Private, Company B
The entrance to St. Francis Cemetery, Humphrey, Nebraska, is shown here, above right. The front face of the Dieter family stone, reflecting grass and gravestones, lists the date of John Dieter's death as February 15, 1928. His wife Susanna lived from February 15, 1845 to June 9, 1920.
John Dieter (sometimes "Dieder" to the Illinois adjutant general, "Deiter", "Drider", and "Decter" to U. S. census takers) was born in Germany on September 18, 1843. His parents, John and Anna, migrated to the United States with their large family sometime around 1855-60. They settled in Will County, Illinois, as farmers.
Dieter was too young to be called to the army in 1861, but he volunteered in April of 1865 and enrolled in the 100th Illinois Infantry. His term of service was set at one year. But already in June the 100th Illinois was mustered out of the service. The 51st Illinois, which had reenlisted in early 1864 still had service time remaining, and was destined along with a number of other regiments for a tour of duty in Texas, to watch French imperialist intentions in Mexico. A number of men from the 100th Illinois were transferred to the 51st. Dieter was one of them. On June 7, 1865, he transferred to Company B of the 51st Illinois.
The regiment had only a few months of travel to and service in Texas before being mustered out itself in September 1865.
After the war Dieter continued farming. He migrated to Platte County, Nebraska. The 1910 and 1920 censuses show him living, retired, in the town of Humphrey. He died there in 1928 and is buried in St. Francis Assisi Cemetery outside the town.
Humphrey, Nebraska: St. Francis Church and Cemetery
The upper picture (below) looks across the Dieter stone to the northwest. The next picture down looks from the Dieter stone southeast toward the church in town.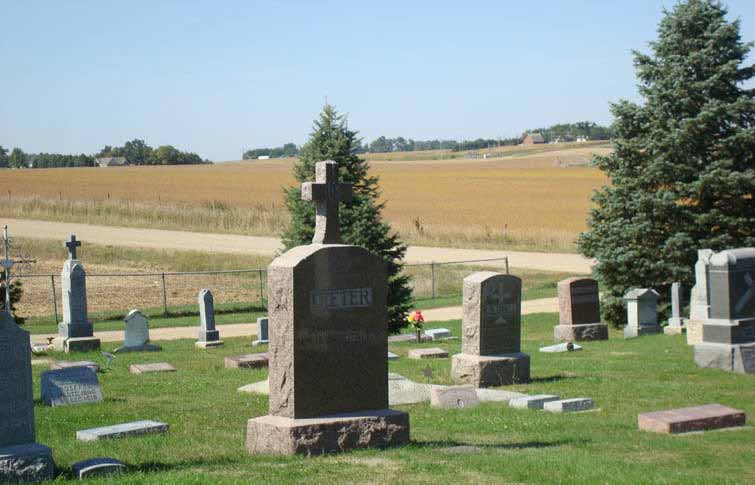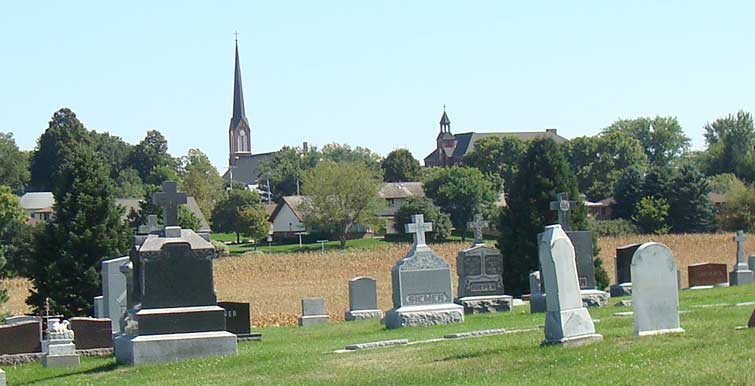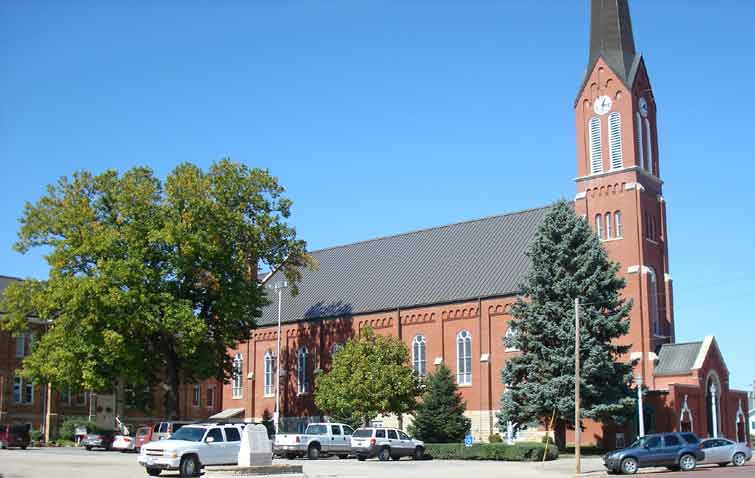 | | |
| --- | --- |
| | The original wood-frame St. Francis Assisi Church and Monastery in Humphrey, Nebraska date back to the early 1880s. The St. Francis church shown in these pictures, both old and current, was dedicated in 1894. An old and better picture is shown at left. The picture is from G. W. Phillips 1915 Platte County book, referenced below. Humphrey itself was laid out, according to Phillips' book, in 1880, the surrounding land having been settled after 1870. |
Sources:
John Dieter, Compiled Service Record, Records of the Adjutant General's Office, 1780's-1917, Record Group 94, National Archives and Records Administration, Washington, D.C. [51st Illinois and 100th Illinois]
G. W. Phillips, ed. Past and Present of Platte County Nebraska: A Record of Settlement, Organization, Progress and Achievement. Two Volumes. Chicago: S. J. Clarke Publishing Company, 1915.
United States of America, Bureau of the Census. Eighth Census of the United States, 1860, Washington, D.C.
United States of America, Bureau of the Census. Thirteenth Census of the United States, 1910, Washington, D.C.
United States of America, Bureau of the Census. Fourteenth Census of the United States, 1920, Washington, D.C.
Photos (except for the black-and-white church): September 2008.