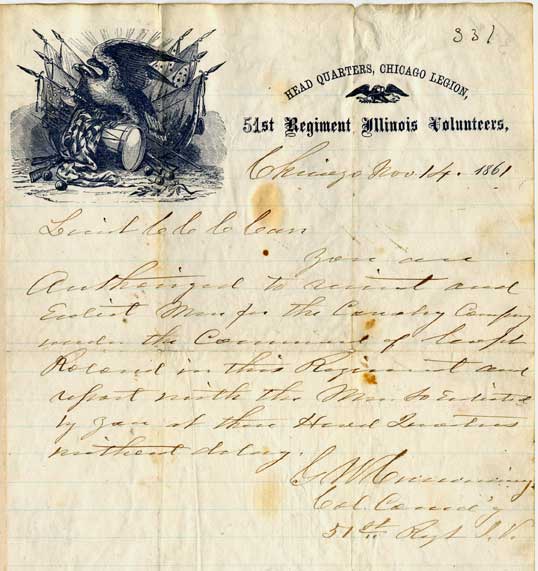 Source: Reproduction courtesy of Chicago History Museum (formerly Chicago Historical Society), Chicago, Illinois.
The document is addressed to Lieutenant C. C. C. Carr and reads: "You are authorized to recruit and enlist men for the Cavalry Company under Command of Capt. Roland in this Regiment and report with the men so enlisted by you at these Head Quarters without delay."
The document is signed "G. W. Cumming, Col Comd'g, 51st Regt I. V."
Lieut. C. C. C. Carr was Camillo Casatti Cadmus Carr. He was born in Virginia in 1842. His family removed to Chicago in 1857. When the Civil War began, Carr was a student at the "old" University of Chicago, a Baptist-affiliated institution. He left college before completing his final year to pursue his cavalry destiny. His first essay was with the Fifty-First Illinois, but that association never took hold, especially after the regiment lost its cavalry company—and he was recruiting as a lieutenant all of 19 years old. Carr enlisted in the regular United States cavalry and served in the Army of the Potomac. An older brother was colonel of a Virginia regiment. After the Civil War Carr continued in the cavalry and served in the West. In the late 1880s he was editor of The Journal of the United States Cavalry Association and chronicled some of his post-war cavalry activities in the March 1889 issue under the title "The Days of the Empire — Arizona, 1866-69".