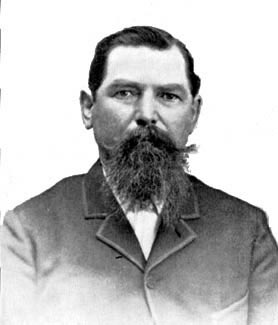 Mark Cooper
Private, Company F
Mark Cooper was born in Yorkshire, England on May 13, 1844. His parents Mark and Jane (Lascelles) Cooper migrated to the United States in 1857. They came to Mason County Illinois and settled near the town of Bath.
In July 1862, Cooper enlisted in the company of recruits which George Bellows was assembling. Bellows' Company F was soon on its way by rail to join the Fifty-First Illinois in Mississippi, becoming the regiment's ninth company. Company F joined the Fifty-First after the New Madrid/Island No. 10 and Farmington/Siege of Corinth campaigns. Cooper survived the railraod-guard trip across Mississippi and Alabama and the rush to Nashville. He came through the Battle of Stones River without a scratch. At Chickamauga on the first day of the battle, September 19, 1863, in the east Viniard field suffered a minie-ball wound behind the left ear. Before he could be carried from the battlefield, he suffered a second wound—another minie ball broke one of the bones in his right leg. He was captured on September 20 when Confederate cavalry captured the divisional hospitals at Crawfish Springs. The Confederates paroled Cooper—he was too crippled and too severely wounded to get to Richmond. His course from then on was that of many of the severely wounded: first to regimental hospital in Chattanooga, then by wagon train across the mountains to Stevenson, Alabama, then to Nashville for treatment by senior surgeons, on to Louisville, where the bullet was removed from his head, then to Evansville, Indiana. From the hospitals there he was given furlough for sixty days. His active-duty career was over. He never returned to the Fifty-First (and in this way the Battle of Chickamauga diminished the effective strength of the regiment—besides the killed and besides the prisoners of war). He was mustered out on June 29, 1865 and reached home in Mason County a week later. It was over.
After Cooper returned to Mason County, he rented land and set to farming. In 1868, he bought farm land and married Lilly J. Patterson. They had three children: two daughers, Minnie and Lillie Jane; a son Robert died in 1870 at six months old. Lilly herself died in early 1873 at the age of twenty-three, and Cooper married Isabel Waterworth (born 1850 in England) on December 18, 1873.
Cooper prospered as a farmer. He participated in local politics and held office as school director, justice of the peace, township supervisor and collector, and drainage commissioner. He was a member of the local (Havana, Illinois) post of the Grand Army of the Republic.
---
Sources:
Mark Cooper, Compiled Service Record, Records of the Adjutant General's Office, 1780's-1917, Record Group 94, National Archives and Records Administration, Washington, D.C.
Chickamauga Casualty List, Regimental Books Fifty-First Illinois Infantry, Record Group 94, National Archives and Records Administration, Washington, D. C.
Portrait and Biographical record of Tazewell and Mason Counties, Illinois: Containing Biographical Sketches of Prominent and Representative Citizens of the Counties, together with Biographies and Portraits of all the Governors of the State and the Presidents of the United States, Chicago: Biographical Publ. Co., 1894.
United States Census, 1880, 1900.