A Sky View of the Viniard Farm and Its Surroundings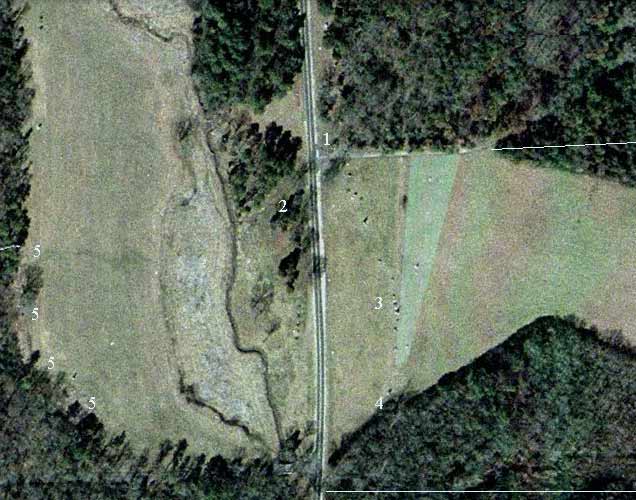 You can easily match this sky-view (Map Quest) to maps on this site, using the Lafayette Road, the Viniard-Alexander Road, the ditch, and the two fields as points of comparison.
The Number 1 marks the northeast quandrant at the intersection of the Lafayette and Viniard-Alexander Roads. Directly south, at the southeast quadrant, is the location of the Viniard grove. Even today there are trees there, but in 1863 the grove was a much more pronounced feature, as H. V. Boynton discussed.
The Number 2 marks the location of the Viniard House. The "ditch" and the west Viniard field stretch north and south to the west of the house.
The woods surrounding the east Viniard field on three sides have encroached on the open ground of the 1863 field. The light lines at the bottom (south edge) and top (north) of the field show the 1863 boundaries. Your mind's eye should push the trees back to those boundaries.
The lighter green triangle-shaped area marks the crest of the rising ground, broader at the north before it falls away to the east.
The Number 3 shows the cluster of monuments in the east Viniard field among which are the four monuments of the four regiments of Bradley's Brigade.
The Number 4 shows the position of the Eighty-First Indiana at the right of the Federal line most of the afternoon of September 19. The monument there, casting a shadow, is that of the Eighty-First Indiana.
The Numbers 5 show where Bradley's Brigade filed out of the woods west of the west Viniard field and formed into line of battle—and immediately advanced eastward across the field.
The Viniard Grove at the Northwest Corner of the East Viniard Field
| | |
| --- | --- |
| | |
| On the map the Viniard Grove shows as the triangle of trees south and east of the T-intersection of the Lafayette and Viniard-Alexander Roads, just to the north of the square black symbol indicating Viniard farm buildings east of the Lafayette Road. The grove was dense and extensive in 1863. Today a few scattered trees grow there, as shown in the photo to the right. | This is a picture in search of a better photographer; nonetheless, it shows part of the area of the Viniard Grove as it looks today. The Lafayette Road runs just to the left of the picture. The road angling off to the right is the Viniard-Alexander Road. You can see the T-intersection of the two roads in the period map to the left. Beyond the Viniard-Alexander Road, i.e. north of it, lies the woods that were inhabited by Benning's and other brigades on the afternoon of September 19. The Fifty-First Illinois set foot across the foreground. |