(Davis' son, Bradley Moore Davis, graduated from Stanford University in 1892, and then studied at Harvard, where he received his doctorate, and in Europe. He was professor at the Universities of Chicago, Pennsylvania, and Michigan. He was affiliated as a researcher with the Woods Hole Marine Research Laboratory in Massachusetts, where he was head of the Department of Botany. He wrote numerous scholarly articles on plant evolution and co-authored, with Joseph Young Bergen, Principles of Botany [1906] and Laboratory and Field Manual of Botany [1907]. Bradley Davis died at his home in Portland, Oregon in 1957 and was buried in the family plot at Graceland Cemetery in Chicago.)
Davis' war wounds started to catch up with him. The Bureau of Pensions granted him full disability. The ball that had passed through his right wrist had destroyed part of the bone and damaged the nerves, causing some deformity and leaving his hand partially paralyzed and his fingers unable to flex. The ball through his right leg, which had damaged the the sciatic nerve, caused withering above the knee and robbed his leg of strength and made it prone to poor circulation and cramping. Fortunately for Davis, he was not trying to live by the fruits of his own physical labor.
Davis established his own lumberyard in 1876, wrote A. T. Andreas. "Ten million feet may be piled on his yard at one time." He steadily employed 125 men and receipts annually averaged 30,000,000 feet (which, at that time, in lumber circles, was considered a lot). Davis was involved heavily in veterans' matters. He contributed an article on New Madrid and Island No. 10 to the first volume of The Military Order of the Loyal Legion of the United States, Illinois Commandery publications. Davis died in Chicago on December 15, 1898 in Chicago, and was buried in the city's Graceland Cemetery. The cause of death on his death certificate was "paralysis of the heart, general exhaustion from overwork." After his death, Emma moved back east. She died in Philadelphia on October 10, 1919.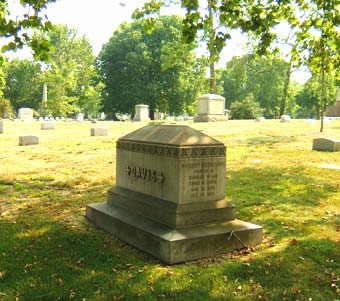 Davis Grave at Graceland Cemetery, Chicago