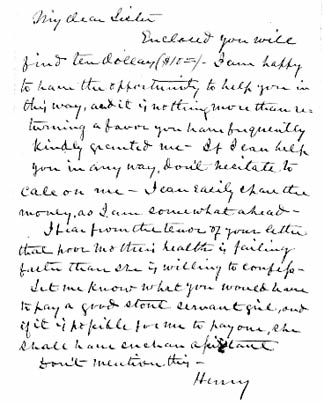 Henry A. Buck
Lieutenant, Company K
Henry Buck was born in Ypsilanti, Michigan on June 26, 1837. He was killed on September 19, 1863, at the Battle of Chickamauga when the Fifty-First Illinois fought through Viniard's Field.
Thus far, we have no photograph of Lieutenant Buck, but we do have a few of his letters and a marvelous collection of his letters and diaries is still extant. This letter—insignificant for regimental history but giving us a part of a picture of Buck—is to one of his sisters, either Helen or Francis or Sarah.
(Not well at the time of this letter, 1861, Buck's mother Amanda G. Buck lived on until January 23, 1895. Buck's father Allen died on December 23 1870. Allen Buck engaged in business ventures which failed completely by 1855. He suffered from long bouts of depression—"broken down from business reverses," his daughter Francis said at a pension hearing—and recurrent worsening bouts of rheumatism until his death. He never contributed much to the family's welfare after 1855. Francis said of her father, "He found that my mother did and could support him, and so like lots of other men, he let his wife do it." His wife supported the family by taking in boarders from the state teacher-training school in Ypsilanti [which opened in 1853 as Michigan State Normal School and is now Eastern Michigan University], decade after decade. In this way she supported the family and funded Henry's way through the University of Michigan.)
Buck graduated from the university in 1858, then studied law, was admitted to the bar, and began the practice of law in Grand Rapids. He received his A.M. degree from the University of Michigan in June 1861. Buck had acquaintances and business in Chicago and, in November 1861 while in Chicago, enlisted as orderly sergeant in Company K of the Fifty-First Illinois. Upon enlisting, Buck appealed to friends and family at home, "Do not let this determination wound your feelings. I consider it a duty."
Buck's mother stated in a pension deposition in 1884, "When he enlisted he was in Chicago, Ill. on business, and he went to the war, and I never saw him again."
By special order of Lt. Col. Bradley, dated June 15 1862, Buck was detailed as acting lieutenant of Company K. His service records show him "commanding Co. since Jan 8/63." Buck's formal commission as 2nd lieutenant of Company K never came through until June 12 1863. He was in command of Company K, on the left of the line, at the battle of Chickamauga.
On January 1, 1863, Buck wrote to his sister Helen from "a hospital near Murfreesboro, Tenn" informing his family that he had not come quite through the Battle of Murfreesboro (Stones River) unscathed. He enclosed postage stamps he had carried in his pocket into the battle; the stamps were mutilated by a bullet. He wrote, "I was slightly wounded by a minie ball just below my left hip. The ball first struck my diary which was in my blouse pocket, tearing it to pieces. That saved my life.... Here are some stamps which were in my diary."
Barnet, in his Martyrs and Heroes, says "his remains lie in the soil of Georgia". But, in April 1864, Buck, like other comrades from the Fifty-First who were killed at Chickamauga, was reinterred at Chattanooga National Cemetery—moved from a crude battlefield grave. Buck is buried there next to his onetime tentmate Otis Moody.
---
Sources:
Henry Buck Compiled Service Record, Records of the Adjutant General's Office, 1780's-1917, Record Group 94, National Archives and Records Administration, Washington, D.C.
Henry Buck Pension File, Records of the Veterans Administration, Record Group 15, National Archives and Records Administration, Washington, D.C.
James Barnet, ed., The Martyrs and Heroes of Illinois in the Great Rebellion: Biographical Sketches, Second Edition, Chicago: Press of J. Barnet, 1866: 128-31.
Henry Buck Papers, Burton Historical Collection, Detroit Public Library.