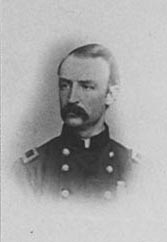 Theodore F. Brown
Company D
Theodore Frelinghuysen Brown was born in Fayette County, Illinois on May 12, 1835. His parents were William H. and Henrietta C. Brown, who came west from New York in 1818. Theodore's father was a lawyer and educator. In 1835, William moved his family to Chicago. To this day, William H. Brown Elementary School is named after him. For a number of years William was president of the Chicago Historical Society. The Browns entertained Abraham Lincoln at their home at 150 Michigan Avenue after Lincoln's nomination in 1860 at the Chicago convention.
Theodore had eight brothers and sisters. He married his New York-born wife Fannie McQuigg on May 5, 1856. Their first son Harry was born in Wisconsin in 1858. The 1860 census found the small Brown family living in Freeport in Stephenson County, Illinois. Theodore was listed as making his living as a merchant. A daughter Harriet was born in 1861.
Brown signed up for military service on September 20, 1861. He was enrolled initially as a second lieutenant but was quickly promoted to first lieutenant. In July 1862, upon the resignation of Captain Ezra Brainard of Company D, Brown was promoted to the captaincy of Company D. He was officially mustered as captain on November 1, 1862, and held that position until he was discharged on May 15, 1865. In February, 1862, when the Fifty-First had barely reached "the field" at Cairo Brown and Henry Wescott, captain of Company A, returned to Chicago, with men detailed from the regiment, in charge of Confederate prisoners from Fort Donelson.
On March 14, 1862, Brig. Gen. Eleazar A Paine, who was then in command of the brigade of which the Fifty-First Illinois was a part, preferred charges against Brown, "In this that... he did... at a dwelling house in the town of New Madrid... feloniously steal and take away certain goods, to wit one colt, then and there, being the property of one Mrs. Craig." The stolen goods were worth five dollars. As of 2009, we are in the process of securing the court martial records to see what the verdict of the court was. The episode apparently did not damage Brown's credit with his regimental superiors, for, whenever there were recruiting details from the regiment back home to Illinois, Brown was part of them. In July 1862, after the Island No. 10 and Farmington/Siege of Corinth campaigns, when the regiment was still trying to recruit up to something like full strength, Brown was sent north to Chicago. During the regiment's reenlistment furlough in February and March, 1864, Brown—having been wounded in the head five months before—again had key recruiting duties and tended to the business of renting and paying for the rendezvous quarters for recruits in Chicago. When the regiment headed back to Tennessee, Brown stayed on to finish up the administration of the recruiting effort in Chicago and Springfield, and then hurried to rejoin the regiment.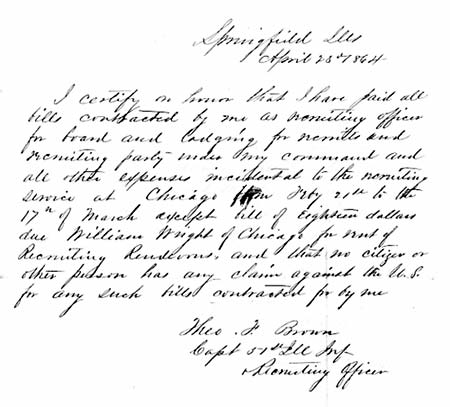 Note from Brown
Recruiting in Illinois
During Regiment's
Reenlistment Furlough
Springfield, Ill
April 23d 1864
I certify on honor that I have paid all bills contracted by me as recruiting officer for board and lodging for recruits and recruiting party under my command and all other expenses incidentail to the recruiting service at Chicago from Feby 21st to the 17th of March except bill of eighteen dollars due William wright of Chicago for rent of Recruiting Rendezvous, and that no citizen or other person has any claim against the U. S. for any such bills contracted for by me.
Theo. F. Brown
Capt 51st Ill Inf
Recruiting Officer
Brown was wounded at Chickamauga on September 19 or 20, 1863. Lt. Col. Samuel Raymond's casualty report said Brown was wounded in the side and head. In a note of December 12, 1863, Brown himself wrote simply, "I was wounded in the head at the Battle of Chickamauga." He was moved away from the battlefield hospital quickly enough to escape capture by the Confederate cavalry that took the hospitals, many of the wounded of the Fifty-First, and numerous hospital attendants from the regiment captive on September 20. He went home on furlough for 30 days. On October 11, 1863, from Beloit, Wisconsin, Brown wrote to Adjutant Henry Hall's mother (Hall was seriously wounded at Chickamauga), "You do not know how often I have thought of Henry this week, for I have been so happy with my little ones & enjoying the rest peace and comforts of home." Between battles, between the campaigns of 1863 and 1864, Brown won this respite with his family, 700 miles away from Chickamauga. Upon returning to the regiment, Brown found that he was "not as strong" as he thought and thought he also had a "hemorrhage of the lungs"—a portent of future health issues. Assistant Medical Director Major Thurston sent Brown to the Officers' Hospital.
On June 27, 1864, in the charge at Kennesaw Mountain Brown was again wounded by a gunshot, this time to the left forearm. It took the wound forever to heal; Brown filed several requests for extension of leave (from Beloit, Wisconsin), due to slow healing of the wound. On November 11, 1864, almost five months after the wound, his physician certified, "He is suffering from gun shot wound of the left forearm, upper 3d, involving both bones and subsequent gangrene of the parts. Wound still open and discharging freely. He has had pyemia and his general health is still much impaired though improving since last extension was granted." He never returned to duty with the regiment.
Brown was mustered out of the service officially on June 7, 1865, for reasons of disability attendant upon his wounds and war ailments. On June 22, 1867, Brown received brevet promotions to Major, Lieutenant Colonel, Colonel, and Brigadier General for "gallant conduct at the battle of Kennesaw Mountain, Georgia, and for gallant and meritorious services during the war." At Kennesaw Brown led the charge of the Fifty-First Illinois against the Confederate works.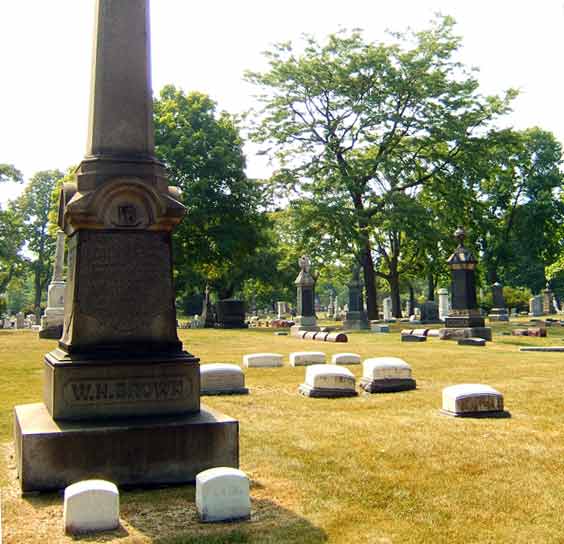 After the war Brown again settled in Chicago. The 1870 census found him doing quite well as a hardware manufacturer. He and Fannie had four children. He was periodically plagued by respiratory difficulties for the rest of his life. In September 1875, Brown wrote to the Society of the Army of the Cumberland to explain his first absence from the Society's reunion that year. He wrote from the Rocky Mountains explaining that he had had to escape Chicago for a stay in Colorado, "My lungs have given out to such a degree a change in climate was absolute." By 1880, he was no longer just taking the cure in Colorado but had settled in Denver. His occupation was listed as "railroad agent" in the census records.
His Last Years (A Jail Sentence). Brown spent his last years at 1801 Warren Avenue in Chicago, about twenty blocks due west of the downtown "Loop". The end years of his life were not a happily-ever-after tale. We know from his own account of the Fifty-First at Kennesaw Mountain that, besides the respiratory troubles that drove him west to Colorado, he was blind during his last years. The 1900 census showed him living, widowed, in Chicago with a cousin, still occupationally active as an "insurance agent".
At Thanksgiving time, 1900, The Chicago Tribune and The New York Times carried short articles about legal trouble. The Tribune article was titled "Aged General Sent to Jail: Theodore F. Brown Given Six Months for Making False Affidavit in a Pension Case." Brown was accused of and found guilty of making false affidavit in the pension matter of a widow Florence Hall. She held a pension because of the services of her husband Robert I. Hall during the Civil War. "In the Summer of 1899," the article read, "the pension examiners began proceedings to remove her name from the rolls on the ground that she was supported by Gen. Brown. Gen. Brown made two contradictory affidavits regarding the matter, stating when the second was made that he was ignorant of the wording of the former deposition." Despite the pleas of Brown's friends in high and low places—first with the Pension Bureau and later with the United States Attorney and the court—and "his honorable war record", Judge [Christian C.] Kohlsaat sentenced Brown to serve six months in the DuPage County Jail (DuPage is the Illinois county just to the west of Chicago and Cook County). The record is, so far, silent after this. We assume Brown served the sentence, and this is a sad chapter then—yet, Brown had eight or nine more years before he was gathered unto his fathers.
He died, according to his death certificate, of "senile pneumonia"—his lungs again: "the lungs are attacked by a low, creeping, sneaking inflammation", according to a contemporary medical volume—on December 22, 1909 and was buried in Chicago's Graceland Cemetery, Section G, Lot 220. The populous Brown plot is shown on this page with the family stone of Theodore's father W. H. Brown and the "Theo. F. Brown" stone nearby.
---
Sources:
Theodore F. Brown, Compiled Service Record, 51st Illinois Infantry, Records of the Adjutant General's Office, 1780's-1917, Record Group 94, National Archives and Records Administration, Washington, D.C.
Roger D. Hunt and Jack R. Brown, Brevet Brigadier Generals in Blue, Gaithersburg, Maryland: Olde Soldier Books, 1990, p. 84.
findagrave.com - http://www.findagrave.com/cgi-bin/fg.cgi?page=gr&GRid=8664957
Death Certificate, Department of Health, City of Chicago.
Society of the Army of the Cumberland, Ninth Reunion, Cincinnati: Robert Clarke & Company, 1876, p. 121.
C.[harles] Handfield Jones and Edward Henry Sieveking, A Manual of Pathological Anatomy, First American Edition Revised. Philadelphia: Blanchard and Lea, 1854, p. 410.
Cemetery photography by Cindi Lynn Geeze, Chicago.
http://www.ilsos.gov/GenealogyMWeb/MarriageSearchServlet - Marriage Record Cook County
Chicago: Its History and Builders, Volume 5, Chicago: S. J. Clarke Publishing Company, 1912: 507-9.