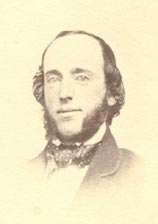 Captain George L. Bellows
Company F
George Lyman Bellows was born on April 6, 1828 in Ware, Massachusetts. He was the fifth of six children; his parents were Ephraim Hartwell Bellows (born 1792 in New Hampshire) and Sarah Brown Bellows. Bellows attended the Academy in Walpole, New Hampshire—living with an aunt while he was away from home at school.
Before the War. Records of the 1850 census show George living in a boarding house, active as a merchant, in Medford not far from Boston. Bellows family genealogist Thomas Bellows Peck wrote of George, "He was successfully engaged in business in Boston for a number of years as a member of the firm of Bellows & Gerrish, on Hanover street. In 1855 or '56 he removed to Chicago and entered into business there, but met with reverses during the panic of 1857." The 1860 census, taken in July, listed Bellows in the Worcester, Massachusetts home of his parents as a "merchant". By the time the Civil War began, he had abandoned business as a livelihood and become superintendant of a mission school in Chicago.
Service with the Fifty-First Illinois. Bellows mustered into United States service on May 1, 1862, as a first lieutenant. His military records list Bellows as a resident of Chicago at muster-in. At that time, the Fifty-First Illinois had been in the field for two and one-half months and was camping just south of the Mississippi line below Hamburg, Tennessee.
Throughout the months of April, May, and June, Bellows was busy enrolling men in an infantry company. Most of the men were from the mid-Illinois County of Mason. That company soon became Company F of the Fifty-First Illinois. Bellows was promoted to captain and officially mustered in as captain on July 18, 1862, the same date the men of Company F were mustered in. Soon thereafter the men of Company F boarded railroad cars in Illinois for the trip to join the regiment in Mississippi—a train trip that was possible only because of the evacuation by Confederate forces of Corinth, Mississippi and the fall of Memphis, events which had given Federal forces control of transportation and communication in west Tennesse and northeast Mississippi. The rest of the regiment antipicated the arrival of Company F and sudden growth in numbers by ten or twelve percent. Albert Tilton of Company C wrote to his younger brother on July 20, "Co. F, the Col, & the major haven't come yet, but we expect them tonight." Company F, delayed, and the rest of the regiment rendezvoused on July 23. The 1862 regimental journal maintained by Lt. Col. Luther Bradley recorded for that date, "Started at 6 am reached Iuka at 9... Co. F Capt. Bellows joined here, having come from Chicago by rail." Chaplain Lewis Raymond recorded the meeting in a letter that appeared in The Chicago Tribune on August 9, 1862. It was dated, "Headquarters 51st Regiment, Courtland, Ala., July 27th, 1862":
On Wednesday Major S. B. Raymond, Capt. G. L. Bellows and company F of his command joined us at Iuka Springs. They were delayed on the route, so they did not arrive in Corinth till we had left camp, and they took the cars on the Mobile and Ohio Railroad to Iuka, arriving a few minutes after we had crossed the track, and soon after, while the battalion was at halt for a few minutes, were received on being introduced by Lieut. Col. Bradley, with three rousing cheers. The arrival of these officers and the new fine company created the wildest enthusiasm among our boys, and although wearied with the march, you would often hear them singing "Ellsworth," "John Brown," "Star Spangled Banner," Red, White and Blue," &c, till it seemed more like a fourth of July procession.
Company F was the regiment's ninth company—still one short.
Bellows quickly gained the respect of his fellow officers. After the Battle of Chickamauga, Lieutenant Colonel Raymond resigned. Major Charles Davis was next in line for the lieutenant colonelcy. One of the captains of the regiment would, in turn, be promoted to become the regiment's next major. The officers held an election for that rank on November 13. Bellows received 8 votes; John McWilliams of Company E, who had been captured in the collapse of the right wing on the second day at Chickamauga, received 7 votes. Bellows wrote home to his family in Massachusetts that he was promoted major. His announcement however was hasty. By rules of the Illinois Adjutant General's Office officers were not promoted sheerly by election; rather, they were promoted by seniority unless there were circumstances (such as cowardice or incompetence) that made such made promotion-by-seniority inappropriate. In this case, there were none. McWilliams was a competent, brave, and respected officer. Colonel Bradley, who was recovering from his Chickamauga wounds in Chicago at the time of the officers election, overruled the promotion of Bellows, saying that there was no reason to violate the rule of seniority in this case and that, if more officers of the regiment had been present at the election, McWilliams would have received more votes.
But, Bellows' death intervened and seemed to offer the small gift of a posthumous promotion to major.
The Posthumous Promotion. Bellows was killed November 25, 1863 at Missionary Ridge, commanding his company in the rush toward the top. The heaviest portion of the regiment's casualties was in Company F. Bellows was shot through the throat and died on the field. Upon learning of Bellows' death, Bradley wrote to the adjutant general to remove his objection to Bellow's promotion. In effect, Bellows would be posthumously major from October 6 (the date Charles Davis was promoted from major to lieutenant colonel) to November 25, the date of Bellows' death (and the date on which McWilliams would become major). The archival sources do not (yet) reveal a formal commission for Bellows, yet his family considered him promoted to major, and Peck gave him a major's commission in his book on Bellows genealogy (Peck was family too of course).
[Letters in behalf of Bellows' posthumous promotion, including Bradley's letter of assent. "Their hearts have followed him lovingly and anxiously through the fields of Stone River, Chicamauga, and Mission Ridge."]
Peck wrote, "The family have very complimentary letters received from Maj. Gen. Sheridan, Brig. Gen. Bradley and Lieut. Col. Davis." Henry Ware Hall, the regimental adjutant, who had been wounded at Chickamauga, captured by Confederates and paroled after ten days, wrote to his father on December 21, 1863, "I attended the funeral of Capt. Bellows, of our regiment, yesterday, acting as pall-bearer. Capt. B. had been Superintendent of the Mission School, & the services took place there. He seemed to be held there in very high respect & veneration, & had done very much for that cause. The services were very touching, & I was glad to have been able to do honor to the Captain, as one whom I had been identified with so long & so intimately. There were three military funerals here yesterday, the sad results of the storming of Mission Ridge."
Bellows never married. He was buried in Massachusetts.
---
Sources:
Biographical research by William Edward Henry.
Photograph courtesy of the United States Army Military History Institute.
George Bellows Compiled Service Record, 51st Illinois Infantry, Records of the Adjutant General's Office, 1780's-1917, Record Group 94, National Archives and Records Administration, Washington, D.C.
Thomas Bellows Peck, The Bellows of Genealogy, or, John Bellows, the Boy Emigrant of 1635 and His Descendants, Keen, New Hampshire: Sentinel Printing Company, 1898, p. 241.
Henry Ware Hall Papers, Massachusetts Historical Society, Boston, Massachusetts

Administrative Files of Civil War Regiments, 51st Infantry Regiment, R.S. 301.18, Illinois State Archives, Springfield, Illinois.