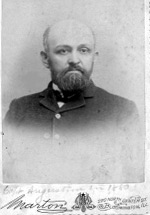 Henry Augustine
Captain, Company I
Under research and development (February 19, 2008).
Henry Augustine initially served with the Fifty-Fifth Illinois Infantry. When the Fifty-First Illinois, more than three years after the formation of the regiment, finally had a 90-man Company I assigned to it in February 1865, Henry Augustine was commissioned captain.
---
After the Evacuation of Corinth in late May 1862, the Fifty-Fifth Illinois was quartered in the Memphis area. To Augustine, fell the task of monitoring and inspecting shipments of goods by Confederate citizenry. The regimental history said, "His suave manners admirably fitted him for the purpose, and he soon became a favorite with all the females in that region, who were enraptured with his beatific smile," [p. 156]. This was high praise for a funny-looking bald man, albeit with a very good smile. Augustine was one of the regiment's inner circle in compiling and distributing the regimental history that praised him. The National Tribune reported, "After years of hard work collecting data, the history of the 55th Ill. is now about to be published. It will be between 500 and 600 pages, and can be obtained of Comrade Henry Augustine, Normal, Ill." According to the Preface of the book, Augustine was treasurer of the regimental association's "History fund", which financially enabled publication of the book.
---
In 1908, the following biographical sketch appeared in the volume of Newton Bateman's "Historical Encyclopedia of Illinois" that was devoted to McLean County, Illinois, Augustine's post-war home.
In 1867 there was established in Normal, McLean County, Ill., a nursery business which was destined to become known throughout the United States and in lands beyond the sea, and the object of which has been the propagation and promotion of all that is best and most satisfying to the florist and horticulturist. The owner of this model enterprise, Capt. Henry Augustine, has a mind of wide range and research, a man thoroughly in harmony with his fascinating and inexhaustible calling and who, for thirty-one years, has given to it the best of brain and heart of which he is capable. This erstwhile farmer and soldier is of German ancestry, and was born in Lancaster County, Pa., July 25, 1840. His father, John A. Augustine, was a native of Wuertemburg, Germany, and came to America as a boy, locating in Lancaster County Pa., where he married Anna Miller, and reared a family of twelve children, seven of whom are still living. In 1857 the elder Augustine brought his family to Canton, Ill., and here his death occurred in 1870, his wife having died four years previous.
Henry Augustine was seventeen years old when the family removed to Illinois. He received a common school education in his native State, and in the vicinity of Canton engaged in farming until the outbreak of the Civil war. In his country's emergency he laid aside the peaceful implements of the agriculturist for the destructive weapons of the soldier, and on August 3, 1861, enlisted in Company A, Fifty-fifth Regiment Illinois Volunteer Infantry as company Sergeant. On August 1, 1862, he was commissioned Second Lieutenant, and on October 2, of the same year, was promoted First Lieutenant. June 27, 1864, he was commissioned Captain and commanded Company A until the following November 8, when he resigned, and upon his return recruited Company I, Fifty-first Regiment Illinois Volunteer Infantry as Captain. In this capacity he continued until November, 1865, when he was mustered out of the service and honorably discharged, having participated in thirty-two hard fought battles, and been under the enemy's fire for 196 days. During six months of his service he was Judge Advocate of a military court. His promotion from rank to rank speaks for itself, and certainly in the Union ranks there was no more earnest, courageous and helpful soldier. Two of his brothers, Michael and J. M. Augustine, fell and were buried by the captain on the battlefield, and the remains were brought home by him and interred at Canton, Ill., after the war. The former, who was a member of the One-Hundred and Third Regiment Illinois Volunteer Infantry, was killed at Missionary Ridge, while the latter, who was Lieutenant Colonel of the Fifty-fifth Illinois Infantry Regiment, lost his life; at Kenesaw Mountain.
After the war Capt. Augustine engaged in the drug business in Canton, Ill., until 1868, when, owing to failing health, he engaged in farming and the nursery business at Pontiac, Ill. In 1876 he came to Normal and established the present nursery business on a small scale, and since has met with pronounced success, having at present one of the best known enterprises of the kind in the State of Illinois. A regular and important part of the business is its foreign trade, having business connections with France, England, Germany, Scotland, South Africa, Australia and New Zealand. The captain has introduced many new and valuable fruits, and to him is ascribed the Sudduch, one of the most valuable varieties known of the pear, as well as the introduction of the Snyder blackberry. He has earnestly and painstakingly collaborated with nature and her enormous possibilities, and his horizon has widened until it embraces practically all that has thus far been discovered in the flower and fruit industry. His erudition is widely recognized at home and abroad, and his services have been enlisted wherever dependable knowledge, forethought and executive ability bearing upon his special line in this part of the country have been required. He was Superintendent of the Illinois State Fruit Exhibit at the Columbian Exposition in Chicago in 1893, and the creditable showing of Illinois fruit at that time was due to his unceasing efforts and pride in local conditions. He has served as President of the National Nurserymen's Association and the Illinois State Horticultural Society, for three successive years, and has contributed to the literature and general undertakings of both of these organizations.
To the enviable reputation as soldier and horticulturist must be added that of philanthropist, the latter perhaps the most unceasing and tireless of the efforts of Capt. Augustine. For more than twenty years he has devoted time and money to the noble cause of the Children's Home and Aid Society, an organization which has accomplished untold good for the homeless waifs of society. The object of the society is to take children from the miserable poverty or unkindness of their natural homes and place them with kind foster parents, where they may have opportunities which otherwise would be denied them. Capt. Augustine was a member of the first local board of the society in Illinois, and was a member of the first State Board of Directors. He is now a member of both the State and National Boards, and of the Executive Board of Illinois, as well as the oldest living member of the society in the State. He is an active member of the Methodist Episcopal Church, and has served as president of the Illinois State Sunday School Association, and the McLean County Sunday School Association. For fourteen years he was Sunday School Superintendent at the Soldiers' Orphans' Home at Normal. He is also identified with the Grand Army of the Republic, being a member of W. T. Sherman Post, Bloomington.
The marriage of Capt. Augustine and Margaret E. Gapen occurred March 17, 1869, and of the union there is a son, Archie M., who now is a resident of Normal Ill., and associated with his father in the nursery business. Mrs. Augustine was born in Pennsylvania, and educated in Fulton County, Ill., whither she removed with her parents in early life, they being Bachriach and Margaret (McGee) Gapen. Capt. Augustine is one of the solid, substantial and highly esteemed men of McLean County, and his life is an expression of rare ability, noble purpose, well directed generosity and faith in the goodness and possibility of his fellow-men. He is a lover of children, flowers and dumb creatures and all the beautiful things of nature, and his heart has ever gone out in unfeigned solicitude towards those upon whom rests the cloud of misfortune and unrest. A fit setting of his broad, useful and tolerant career is the confidence and gratitude of a community which has profited by his experience, and which necessarily regards his as a fitting representative of the men who have wisely used the opportunities of the great Central West.
---
Sources:
Henry Augustine, Compiled Service Record, Records of the Adjutant General's Office, 1780's-1917, Record Group 94, National Archives and Records Administration, Washington, D.C.
Newton Bateman and Paul Selby, Historical Encyclopedia of Illinois [and History of McLean County], Two Volumes, Chicago, Munsell Publishing Company, 1908, Vol. 2, pp. 925-6.
[Lucien B. Crooker, Henry Stedman Nourse, John G. Brown], The Story of the Fifty-Fifth Regiment Illinois Volunteer Infantry in the Civil War 1861-1865 by a Committee of the Regiment,Clinton, Massachusetts, Printed by W. J. Coulter, 1887.
Photo - courtesy of Historical Data Systems, American Civil War Research Database at www.civilwardata.com