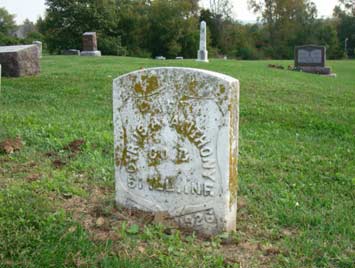 Cyrus Anthony
Captain, Company B
The following biographical snippet regarding Anthony was published in The United States Biographical Dictionary and Portrait Gallery of Self-Made Men:
Cyrus A. Anthony was born April 29, 1839, in Hackettstown, New Jersey. His father, Francis Anthony, was a native of Tyrone, Ireland, and immigrated to America about 1818, settling in New Jersey. In 1852 he came west, selecting as his home a beautiful farm in Stark county, Illinois, where he died in 1876, after a happy, useful life. His mother, Elizabeth Hager, daughter of Jacob Hager, a German farmer, was a native of Warren county, New Jersey.
The subject of this memoir was raised on the family farm in Stark county, Illinois. He attended a course of literary reading at Lombard University, Galesburg, Illinois. In 1861 he entered as a private soldier company K, 51st Illinois Infantry and remained in active service until peace again reigned, being mustered out in 1865. Mr. Anthony possesses firmness and self reliance, combining the two qualities indispensable to great action. Add to these daring and you will readily perceive why his promotions followed so rapidly. He was first promoted to quartermaster sergeant, then to first lieutenant of company G, from that to adjutant (regimental). His last advance was to captain of company G.
He was engaged in service in Missouri, Tennessee, Alabama and Georgia [and] was mainly connected with the army of the Cumberland. When mustered out Mr. Anthony returned to his farm where he remained until 1867, when he began the reading of law at Galesburg, Illinois and was thus assiduously engaged for nearly three years, when in April, 1869, he was admitted to the bar. In 1870 he located at Maryville, Nodaway county [Missouri] where he still resides, actively engaged in his profession. He was county attorney of Nodaway during 1875-6, and city attorney of Maryville during 1874-5-6.
The secret of Mr. Anthony's success in his professional career, lies in his noble devotion to the work itself, not looking to the rewards. No one can pursue a worthy object with all the powers of his mind, and yet make his life a failure. Politically he is a Democract; religiously a Presbyterian. On February 22, 1864 he was married to Miss Charlotte Shaw, of Stark county, Illinois.
—
Subsequent to the publication of the sketch (above) in "The United States Biographical Dictionary," Anthony served two terms in the Missouri State Legislature, and in 1886 was elected judge of the twenty-ninth judicial circuit of Missouri (counties of Andrew, Atchison, Holt and Nodaway).
Cyrus was part of a large family. He had six brothers and sisters, one of them a twin sister, Margaret. Cyrus and Margaret were the youngest. At age 22, Anthony enlisted as a private in Company K of the Fifty-First Illinois. His first step in climbing up through regimental ranks was his being detailed as a clerk in the regimental quartermaster department in July, 1862. On December 7, 1862 he was promoted, from private Company K, to regimental non-commissioned staff as quartermaster sergeant (his predecessor George Moore having been discharged). In December, 1863, Anthony reenlisted at Blaine's Crossroads, Tennessee, along with many other members of the regiment. In June of 1864 (formal muster: November 28, 1864), he was promoted first lieutenant of Company G. On December 1, 1864, he was detailed to command Company D (without change in rank or commission). In November 1864 (formal muster: January 25, 1865), he was promoted regimental adjutant.
At the end of the Fifty-First's life, during its last few months in Texas, Anthony, as adjutant, and James Boyd, as lieutenant colonel, worked industriously to hold the 200-plus men together as a regiment, start the staged muster-out process for various categories of the regiment's soldiers - veterans, recruits, draftees - and complete narrative sections of the regiment's history for the Illinois adjutant general's office. On September 1, 1865, Anthony was mustered in as captain of Company B, just a few weeks before he and the regiment were mustered out of service on September 25, 1865.
Anthony died in Maryville, Missouri on February 15, 1926, at the age of 86. He had been suffering from mild Parkinson's disease and kidney and prostate complications. He was buried in the Oak Hill Cemetery at Maryville.
September views of Oak Hill Cemetery at the northern part of Maryville, Missouri. The four stones of the Cyrus Anthony Family are shown below.
The large stone is the Anthony family stone.

The rectangular stone names two of Anthony's children, daughters.

The next stone belongs to Anthony's wife.

The most distant of the four stones belongs to Anthony himself, the same stone shown close up at the top left of this page.

The view is to the Grant-Wood southeast.
Sources:
Cyrus Anthony, Compiled Service Record, 51st Illinois Infantry, Records of the Adjutant General's Office, 1780's-1917, Record Group 94, National Archives and Records Administration, Washington, D.C.

Biographical research by William Edward Henry.

The United States Biographical Dictionary and Portrait Gallery of Self-Made Men: Missouri Volume, New York & Chicago: United States Biographical Pub. Co., 1878, pp. 516-7.

M[ichael]. A. Leeson, Documents and Biography Pertaining to the Settlement and Progress of Stark County, Illinois: Containing an Authentic Summary of Records, Documents, Historical Works and Newspapers Relating to Indian History, Original Settlement, Organization and Politics, Courts and Bar, Citizen Soldiers, Military Societies, Marriages, Churches, Schools, Secret, Benevolent and Literary Societies, etc., together with Biography of Representative Men of the Past and Present, Chicago: M.A. Leeson & Co., 1887 (Chicago: Donohue & Henneberry, Printers and Binders), pp. 684-5.

Death certificate, Missouri State Board of Health, Bureau of Vital Statistics. Date of marriage confirmed by Illinois Statewide Marriage Index.