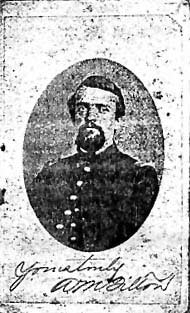 Captain Albert M. Tilton
Company C
Albert Murray Tilton was the oldest of four sons of the Tilton family of Moscow (part of the Township Leicester, Livingston County), New York. Eventually all four sons enlisted in the Federal armies, two in Illinois and two in New York. Two survived, two died.
Albert was born in New York on March 7, 1836. He joined his father's business and worked as a merchant until he went west to Illinois in 1859 and worked as the railroad agent in south Middleport (renamed Watseka in 1863), Iroquois County, Illinois. Two of Albert's brothers, Henry and Robert, went west with Albert and held jobs with the railroad; the youngest brother, William, stayed home in New York.
Albert enrolled in the company being raised by Nathaniel Petts in Middleport in the autumn of 1861. Tilton was the first lieutenant of this company when it became Company C of the Fifty-First Illinois. He was promoted to the rank of captain on December 12, 1862, upon the resignation of Captain Petts for reasons of protracted illness.
Tilton seems never to have wanted to advance beyond the rank of Captain. Chickamauga put an end to aspirations Tilton might have had in that direction. On October 11, 1863, he wrote:
Owing to the heavy losses in both Corps (20th & 21st), they have been consolidated & are now the 4th Corps. Our brigade has been consolidated with Col. Harker's & is to be commanded by Harker. Our division is to be spliced to some other, but what I do not know.... Efforts are being made to consolidate our brigade into 2 Regts. I hope it will be accomplished & let me out honorably. Somebody will have to go & I want to be one of them. I don't like this way of "bunching" things. It throws us out of our old division, in with strangers, & deprives us of all our old associations. Moreover the Regt is very small - less than 150 for duty - I can't turn out over 25 men. Nearly all the officers of the regt, who were my intimate friends are killed, wounded & prisoners. There are hardly any left whom I care for. My inclinations, my feelings, both of body & mind, urge me strongly to get out of the service. I have worked hard, have never missed a march or a fight, have served over 2 years & now of all my set, I am almost the only one left. On the other hand my sense of duty tells me to stay & fight to the bitter end, & if I can't get out honorably, I shall do so. If I could get a staff appointment, it would be much more pleasant. But I dislike to "blow my own horn" & I hate to trouble others to do it for me. I don't suppose I can ever get a leave. I am too healthy to go on sick leave & no business that is urgent. A 30 days leave of absence would make anew man of me. But all this grumbling amounts to nothing. I must take what comes, unpleasant as it is.
For much of 1864 Tilton was in effective field command of the regiment. Lt. Col. Samuel Raymond resigned on October 8, 1863, less than three weeks after Chickamauga. The Lt. Col. designate Charles Davis was wounded severely in the leg at Missionary Ridge. The only other captain of seniority and long standing in the regiment John McWilliams was taken captive at Chickamauga on the second day. Rufus Rose, Captain of Company K, was promoted major on October 8, 1863, but already in September, before the Battle of Chickamauga, Rose was ill and absent from the regiment and never again returned to any command function in the regiment. And, Bradley, of course, was soon in command of a brigade again when he returned to east Tennessee and the regiment after recovering from his Chickamauga wounds—though Bradley did manage regimental recruiting when the regiment furloughed to Illinois in February and March, 1864. That left Tilton, and by all accounts he was equal to the task. Certainly, he was in sole day-to-day command of the regiment after the Battle of Kennesaw Mountain on June 27, 1864, when his friend and last tie to the old regimental command structure, Adjutant Hall, was killed.
An Albert Tilton obituary stated that he was wounded at Kennesaw Mountain "and lost all his men, either killed or wounded, except five"—this was several days before the famous and ill-fated assault up Kennesaw Mountain on 27, 1864. Tilton was again wounded at the Battle of Franklin on November 30, 1864. Lieutenant John Johnson, who was commanding Company E at Franklin, recalled in his notes to George Pratt, "You remember our brigade was put out in front of the main line. We had hastily thrown up some slight breastwork. The work perhaps of an hour. Co. E was placed to the left of the pike, its right resting thereon. In front of us was one of those small sugar loaf hills, rounding off in all directions. The brigade was blazing away at the masses of the rebs as they marched unfalteringly forward. E's men could not fire without doing so obliquely, the small hill hiding the foe. I went to Capt. Tilton, then in command of the Reg, asked permission to hold our fire until the jonnies came up over the knoll. He replied, "'Do as you damn please.'"
Tilton took advantage of the provisions of Circular No. 75 (September 22, 1864) of the War Department's Adjutant General's Office to serve out his term of service counted from his original muster in date of December 21, 1861 rather than from his muster date as captain of December 12, 1862. On January 16, 1865, Tilton signed a printed government-prepared affidavit (as did hundreds of other officers) stating, "I hereby certify on honor that in accepting my Muster into the United States service as a Captain in the 51st Ills Infty for three years from Dec 1862 I was not voluntarily re-mustered for three years from that date. I accepted the Muster with the full understanding that my term of service would expire three years from the date of Muster in the said 51st Illinois Infty I having first mustered as a 1st Lieut as of the date of its original organization, and have now served three years. This 16 day of January 1865." If not for this, Tilton would have been with the regiment until September 25, 1865.
Tilton was out. He officially mustered out, by expiration of term of service, on January 16, 1865, at Huntsville, Alabama.

Henry Tilton, Jr.
The war effort was not quite over for the oldest Tilton brother. Albert's next younger brother Henry Tilton, Jr., born April 20, 1839, having left Middleport and returned to Moscow after Robert's death on July 23, 1862, enlisted in the Twenty-Fourth New York Light Artillery on Aug. 29, 1862 and was captured by Confederate soldiers at Plymouth, North Carolina, on April 20, 1864. He was sent to Andersonville though the family had no exact knowledge of his whereabouts and fate; their anxiety deepened. The fourth and youngest brother William Tilton, born April 18, 1846, had meanwhile, on Oct. 10, 1864, enlisted in the Twenty-First New York Battery. Albert wrote home on December 26, 1864—wounded but with the battles of Spring Hill, Franklin, and Nashville behind him—"Do you hear from Billy. I need not ask from Henry for I am of the opinion you will not hear from him if alive for some time yet." Eventually, by a letter of February 25, 1865, the family had some news of Henry via William. While serving in Louisiana, William had heard from a soldier of the Ninety-Second Ohio, Theodule D. Froedeveaux, who had been released from Andersonville, that the captives from Henry's artillery regiment at the prison camp had been "dying off like sheep". After this bit of news Albert was in search of his brother Henry. In July, Albert got Froedeveaux's address in Gallipolis, Ohio from the adjutant general of the State of Ohio. The news was bad; sadly and ironically, Henry had died at Andersonville on October 18, 1864, just a few days after William enlisted—and nine months before the search for him finally ended. He was buried in Andersonville grave 11230, pictured here.
After the war Tilton again headed west. He was appointed Superintendent of Transfer for Government Supplies at Omaha. When that position vanished in the dismantling of the war bureauracy, Tilton took a position as agent for the Union Pacific Railroad in Ogden, Utah.
Tilton died young on January 6, 1876 at Ogden, Utah. He was buried back near the family home in Leicester Cemetery, New York—in the same plot as his younger brother Robert, also of Company C.
---
Sources:
Photocopy of Photograph - Library of Congress. This is a scan of a photocopy of a photocopy, held by the Library of Congress, of the original photo.
Albert Tilton Compiled Service Record, 51st Illinois Infantry, Records of the Adjutant General's Office, 1780's-1917, Record Group 94, National Archives and Records Administration, Washington, D.C.
Tilton Family Papers, Library of Congress.
George Pratt Papers, Abraham Lincoln Presidential Library, Springfield, Iliinois.
Official Records, Series 3, Volume 4, p. 740 (Circular No. 75).