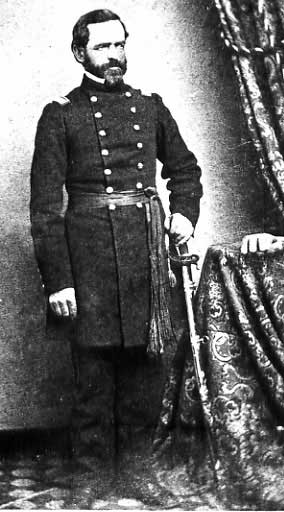 Gilbert Cumming
Colonel
Gilbert W. Cumming, the first colonel of the Fifty-First Illinois Infantry, was a native of New York, born in 1817. While apprenticed to a carriage-maker, Cumming began the study of law and became a lawyer. At the age of 16 Cumming enlisted in an independent military company, submitted to all its training and discipline, and eventually rose to command of a regiment in the New York militia. For six years he was colonel of the regiment.
In 1853 Cumming migrated to Wisconsin, then in 1858 to Chicago, where he established a successful law practice. Illinois Governor Richard Yates appointed Cumming colonel of the Fifty-First Illinois. In March 1862, at New Madrid, Missouri, Cumming was advanced to brigade command (Lt. Col. Luther Bradley taking effective command of the Fifty-First). Cumming served as brigade commander through the campaigns of New Madrid and Island No. 10. But, after those successes, he began to suffer fever and dysentery and "great physical prostration, producing great general debility and weakness of the lower part of the spine leaving him but little use of his legs," according to the physician's certificate accompanying his resignation. In late April or early May, Cumming returned to Chicago for medical treatment.
Brigadier General Eleazar Paine, Cumming's immediate superior at Island No. 10, himself in Chicago to restore his health, visited Cumming in August and wrote, "Col. Cummings (sic) commanded a Brigade under me for several months, he is an able efficient officer and his anxiety to return to his command I have no doubt retards his recovery."
In his formal letter of resignation, dated September 12, 1862, Cumming said he would eagerly return to active service if he could once again mount a horse. Dr. Daniel Brainard wrote that Cumming was suffering from "exposure fever" and "loss of power in the lower limbs".
On July 16, 1867, Cumming was appointed Brigadier General to date from March 13, 1865, by brevet, for "gallant and meritorious services at the battle of Island No. 10..." Cumming survived the war and moved back east, to New Jersey, shortly thereafter. He resumed the practice of law. We do not know whether he recovered the power in his legs, but he did not live to a ripe old age; he died in 1877.
---
Sources:
Compiled Service Record, Gilbert W. Cumming, 51st Illinois Infantry, National Archives, Record Group 94.
Mark M. Boatner III, The Civil War Dictionary, New York: Vintage, 1988.
Genealogical Research by William Edward Henry.
Photograph courtesy of the Library of Congress, Washington, D. C.